Wood carver
Kengo Takiguchi
Born to the famous wood carver Masamitsu Takiguchi and Yuriko, an Ainu woman. He runs the Ichinge-no-Mise in the Lake Akan Ainu Kotan after inheriting it from his father. He strives to continue improving his wood carving skills, while also working as cultural guide where he can make use of his English proficiency.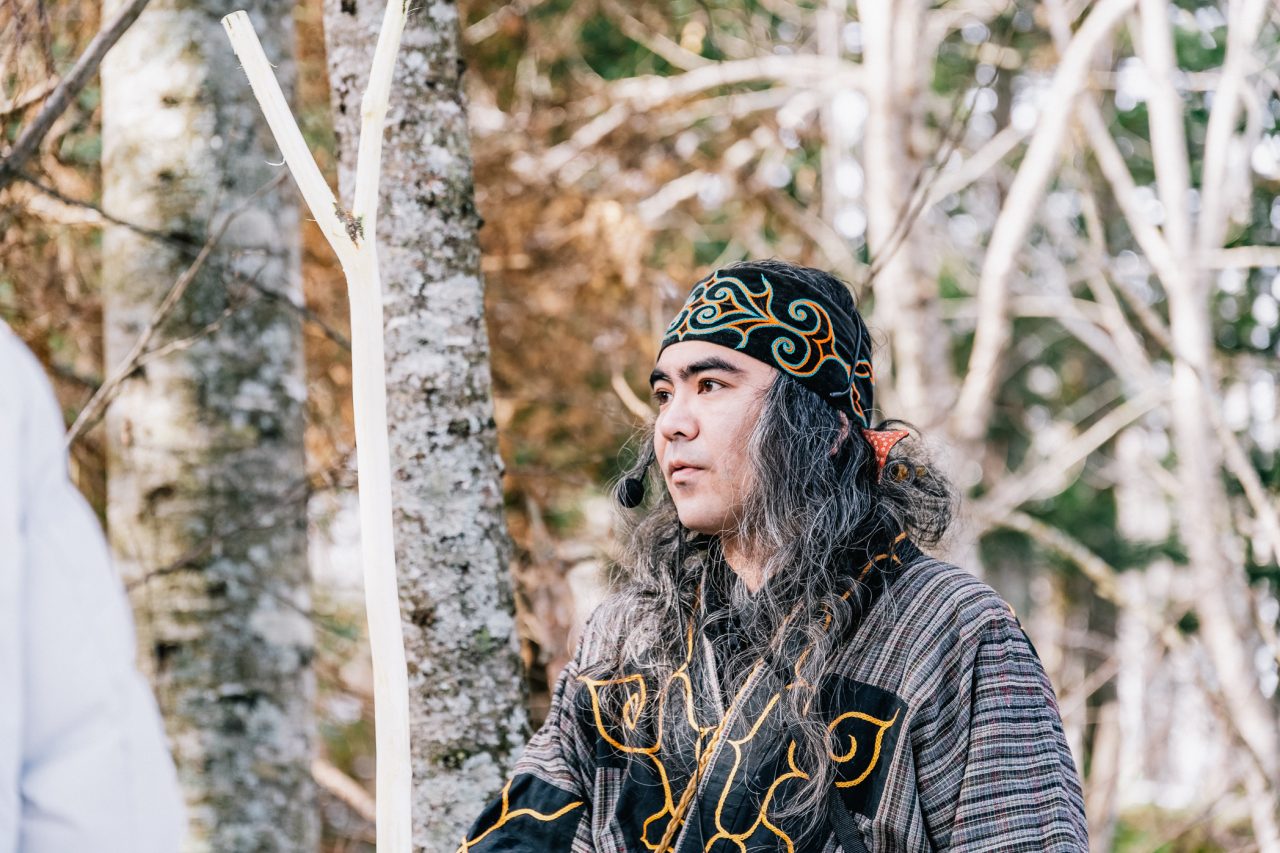 Growing up in Lake Akan
Kengo grew up watching his father, the famed wood carver Masamitsu Takiguchi, known as one of the Three Great Masters of Lake Akan. In a corner of the wood crafts shop "Ichinge-no-Mise" which he inherited from his late father, there is a wood sculpture that Kengo first carved during his childhood. It is a simple carving of a face on a small, cylindrical block of wood, but it bears a similar expression to many of his works today.
For Kengo, wood carving was such a familiar presence during his early years that he never really thought of becoming deeply engaged in it.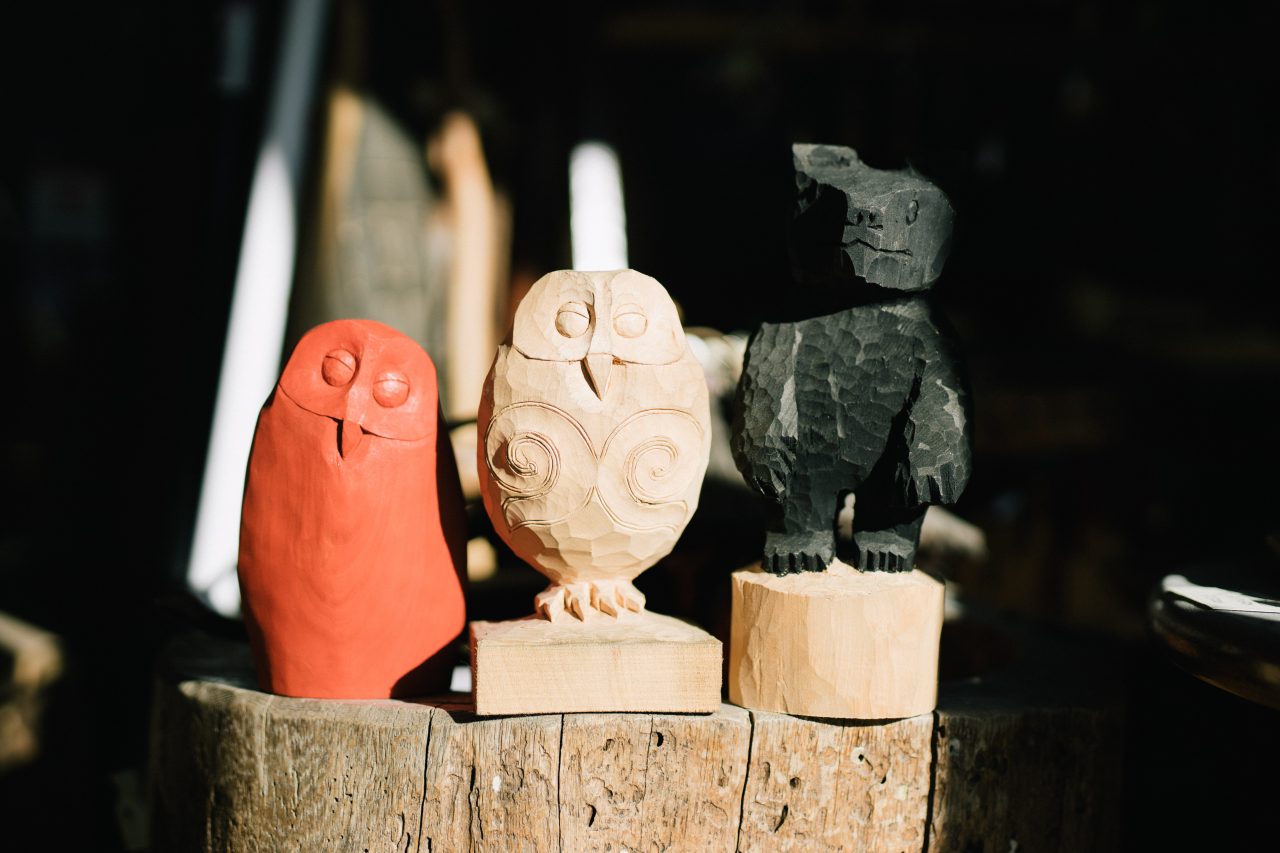 Discovering his roots and the joy of wood carving
Kengo's interest in sculpting sparked while living in Australia during his high school years, when he felt a special delight in his heart after experiencing clay molding and wood working. This newfound joy would lay the groundwork for his path to becoming a wood artisan.
He also took a deep interest in Ainu culture after returning to Hokkaido, especially after taking part in a traditional Ainu kamuy-nomi (※1) ritual in Takikawa City. He was so moved by the experience that it brought him to tears. It was a turning point that opened his eyes to the beauty of the Ainu culture, and made him proud of the Ainu blood running through his veins.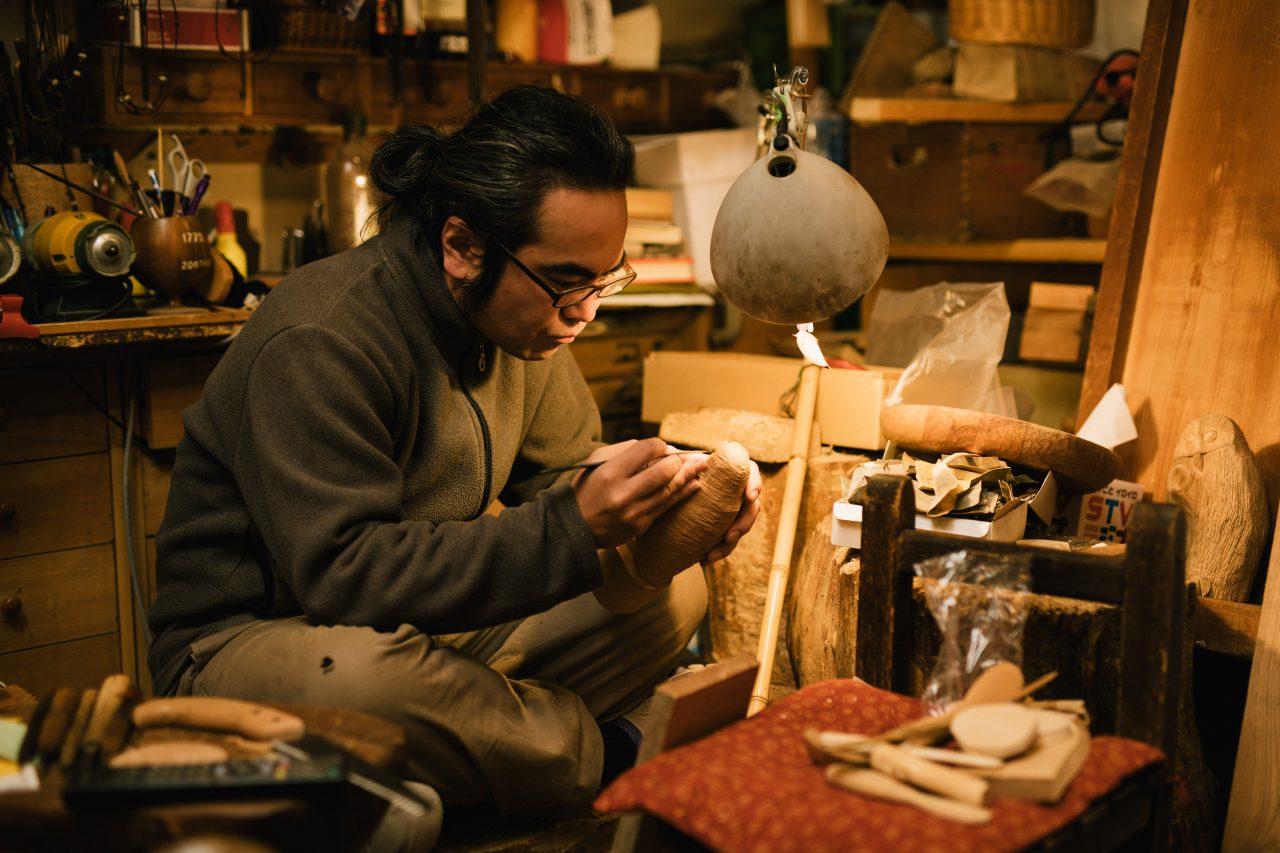 Connecting with his father through wood carving
After returning to Hokkaido, Kengo worked as a wood carver at his father's shop for around 10 years, before leaving Lake Akan to work in a dairy farm. Even then, he continued practicing wood carving. After a day's work at the farm, he would sit in his room and work on wood until late at night.
One day, his father Masamitsu and the rest of the family visited him at the farm. Masamitsu saw the wood carvings in Kengo's room, but he did not give his impression of them. Later on, Kengo found out that his father had arranged for his works to be displayed in a hotel in Lake Akan. He had gained his father's recognition for his craft, and this achievement would spur him to return to Lake Akan.
Other than how to properly sharpen his tools, Masamitsu never really taught Kengo about wood carving techniques, insisting that he should just carve as he pleases. More than any words could express, perhaps it was Masamitsu's mere presence and work ethic towards wood carving that conveyed the most to Kengo, and it has undoubtedly influenced how he works today.
Every time he sits at his workbench in the shop his father left him, his hand starts to move naturally, and he would soon find himself quietly carving away at wood.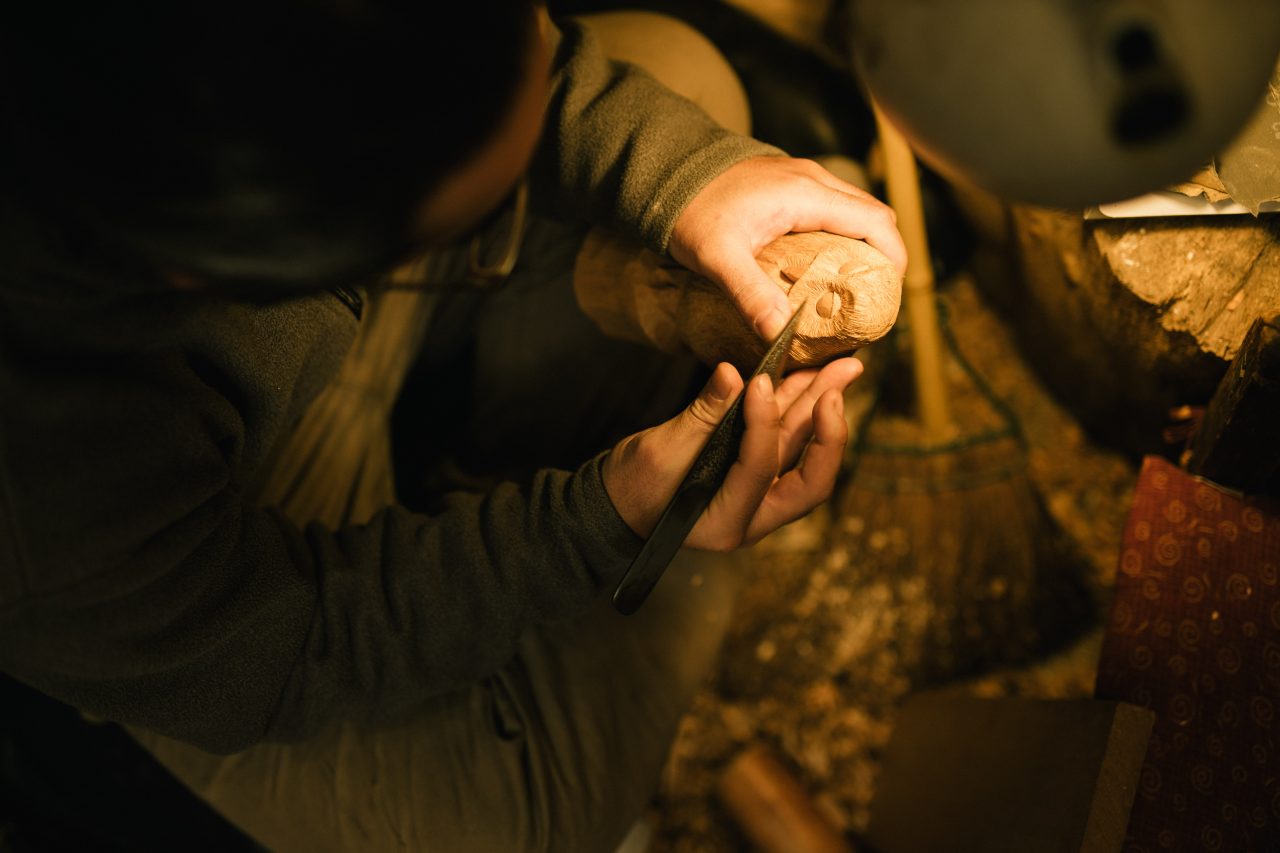 Conveying the charms of Lake Akan as a guide
Kengo has also been breaking new ground. He is currently working on a lineup of products in collaboration with a major apparel and accessory brand. He has also gone beyond wood carving, taking on the role of an Ainu cultural guide. Whatever work comes his way, he always takes it on wholeheartedly. This attitude comes from his love for Lake Akan, the land that has shaped his life. He wants to do whatever he can to share with others the beauty of this place.
It is also his strong desire to share with the world the culture of the Ainu, a culture that has deeply touched his heart. He hopes that by getting to know the Ainu way of life, people can nurture their feelings of kindness.
As Kengo stares into the distance in Lake Akan, his eyes probably envisage a peaceful world where people respect each other, sharing smiles and laughter together.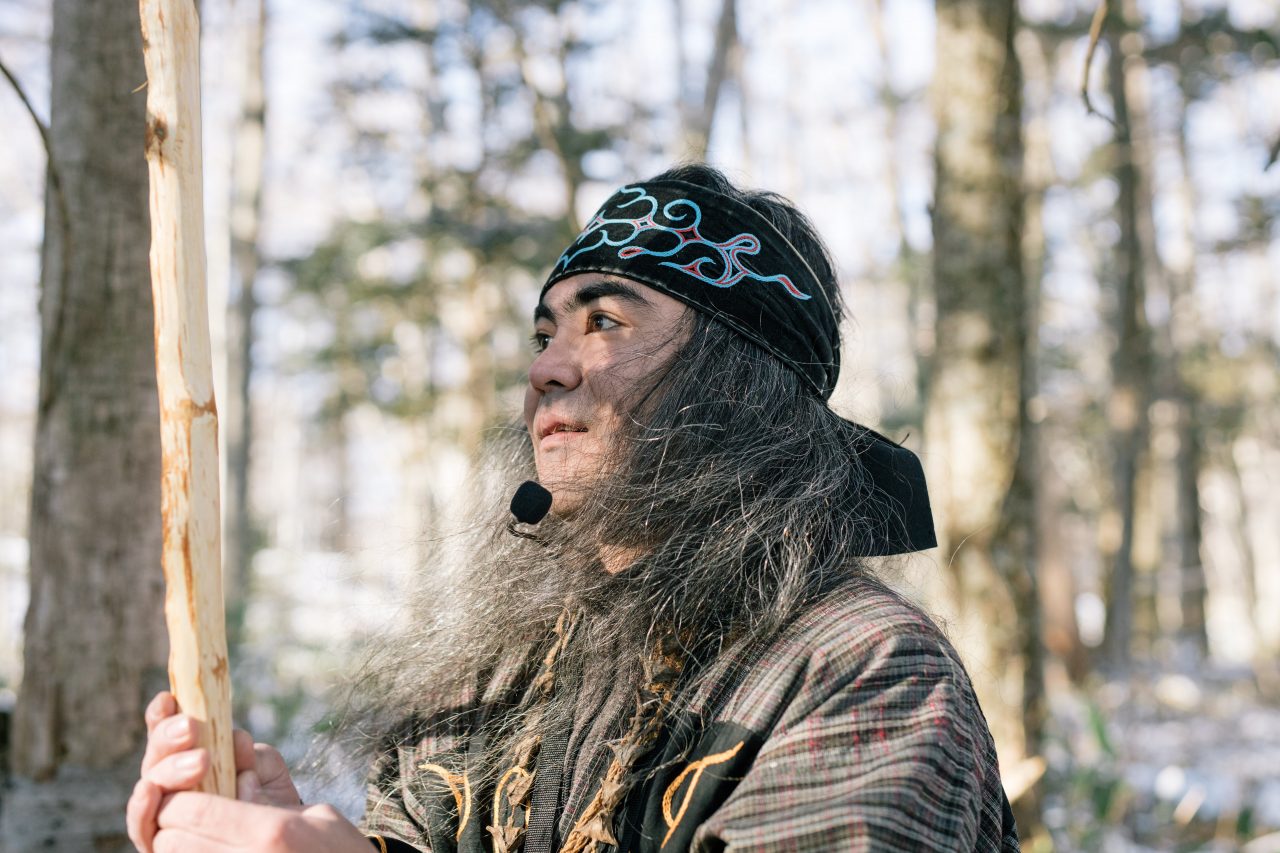 Interview Video
Kamuy-nomi: a traditional Ainu ritual performed as prayer to the gods.