Embroidery Artist, Ainu Cultural Inheritor
Kayoko Nishida
She was born to her father Kumataro Saito and her mother Fumi in Tanno Town (now part of Kitami City). She moved to Lake Akan for work, and was introduced to the world of Ainu embroidery after marrying her husband Masao Nishida who owned the Cinita Folk Craft Shop in the Lake Akan Ainu Kotan. She has created countless embroidery works and has received many awards at craft exhibitions. She is also active in training successors and teaching visitors to Lake Akan.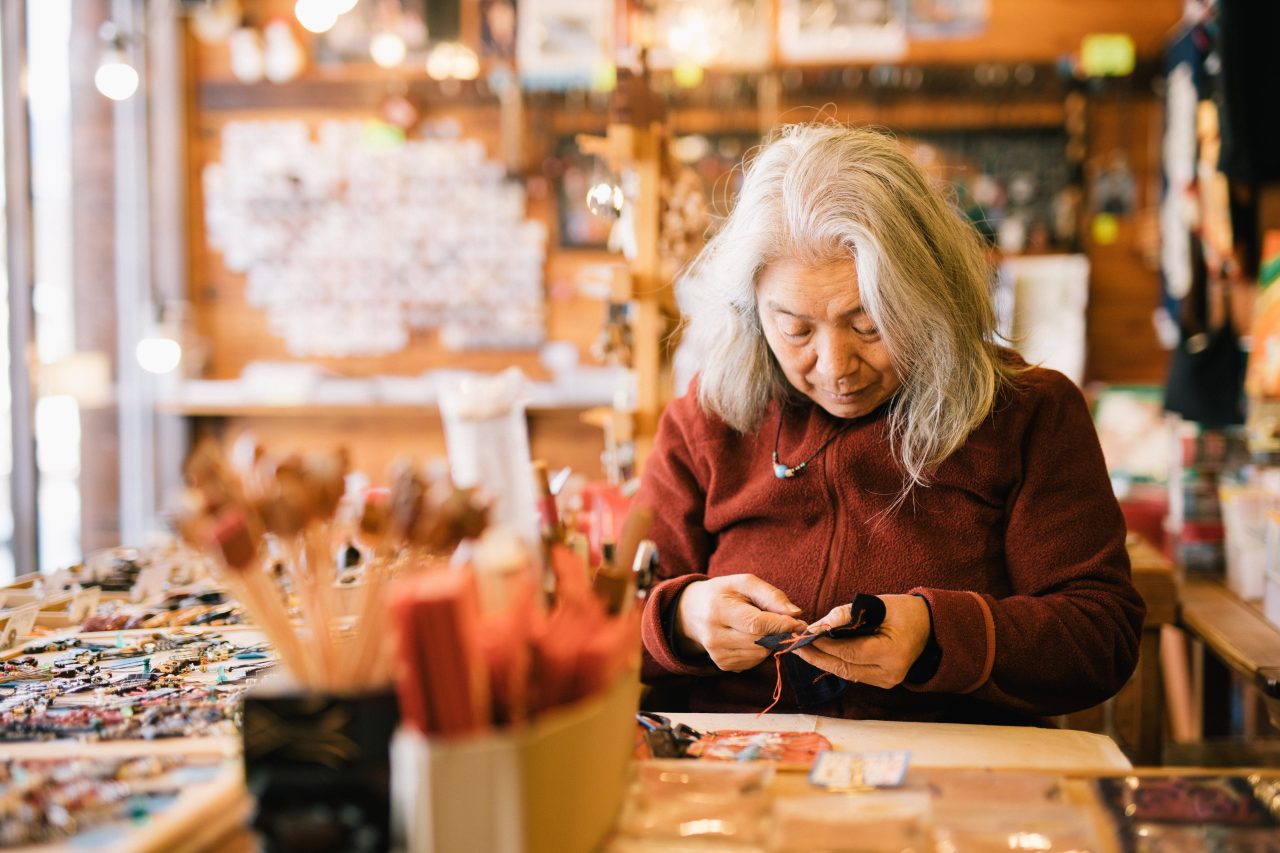 Her encounter with Ainu embroidery
One of the foremost experts on Ainu embroidery, Kayoko was born in the mountains in a town called Tanno. Her father passed away when she was still small, and her earliest memories are of her life with her mother in Bihoro and Abashiri. Her mother was a seamstress, and she recalls how she was quite adept at patchworking, even getting a lot of praise from others. Though she admired her mother a lot, she had no idea at the time that she herself would become deeply involved in clothworking.
After growing up, Kayoko moved to Lake Akan, where she worked for the Lake Akan Fishery Cooperative. It was here that she met and married Masao Nishida, the son of the owner of the Cinita Folk Craft Shop. With this marriage, Lake Akan became her permanent home.
While helping run her husband's shop, she was introduced to the world of Ainu embroidery. She learned the ropes from her mother-in-law Huci (※1) Katsumi Akibe and their neighbor Huci Sawa Kotori, gradually honing her skills. She recalls how the kind Huci Katsumi would give her pocket money as a reward for making embroidery.
But there was one instructor named Hisakazu Fujimura who was quite strict with her. Fujimura-sensei was a leading Ainu cultural scholar in Hokkaido, and was well-versed in Ainu embroidery from his work interviewing the Ainu elders in Lake Akan. Still, she has developed a close friendship with Fujimura-sensei that remains to this day. Kayoko has always treasured every encounter throughout her life.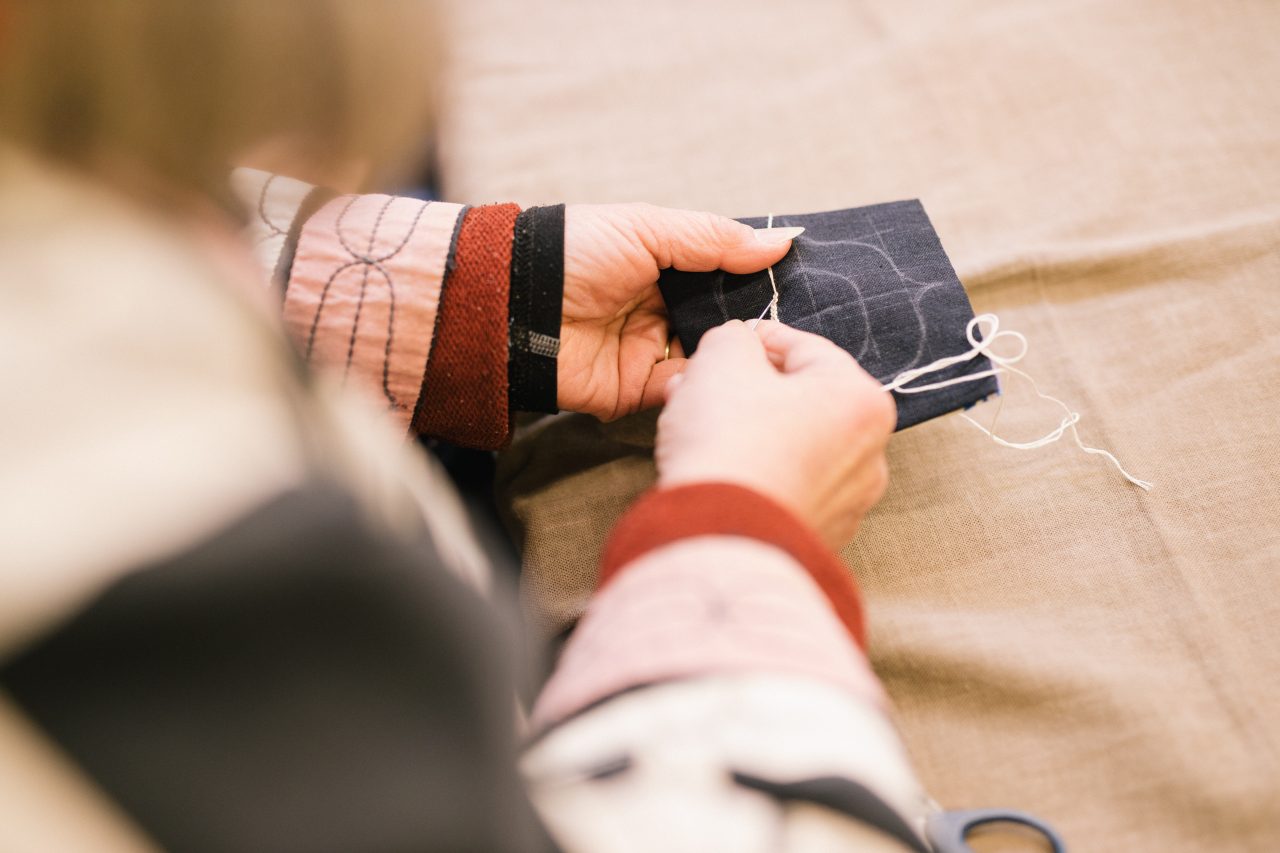 Experiencing the handiwork of her ancestors
In the Marimo Festival (※2), Ainu people from various regions of Hokkaido gather in Lake Akan. On one occasion, Kayoko took a deep interest in how each community had differing patterns in their traditional dresses. To find out more, she started visiting museums, eventually becoming immersed in the profound world of Ainu patterns.
Her newfound knowledge of Ainu traditional clothing led Kayoko to try spinning thread from the fibers of plants used by the Ainu, such as Japanese nettle, lobed elm, Japanese yam, Oriental bittersweet, and cinchona. She would then weave it into cloth, stitch it into clothing, and finally apply embroidery. It may seem arduous, but she felt a joy in doing the entire process herself
Kayoko relates that this was how the Ainu made their clothes in the past. They believed that the plants which were the source of their clothing are all kamuy (gods) who share their blessings. They treasured every piece of thread, turning into clothing with a thought for its future wearer. By experiencing it for herself, she became even more fascinated with the Ainu way of life and how they interacted with the surrounding nature.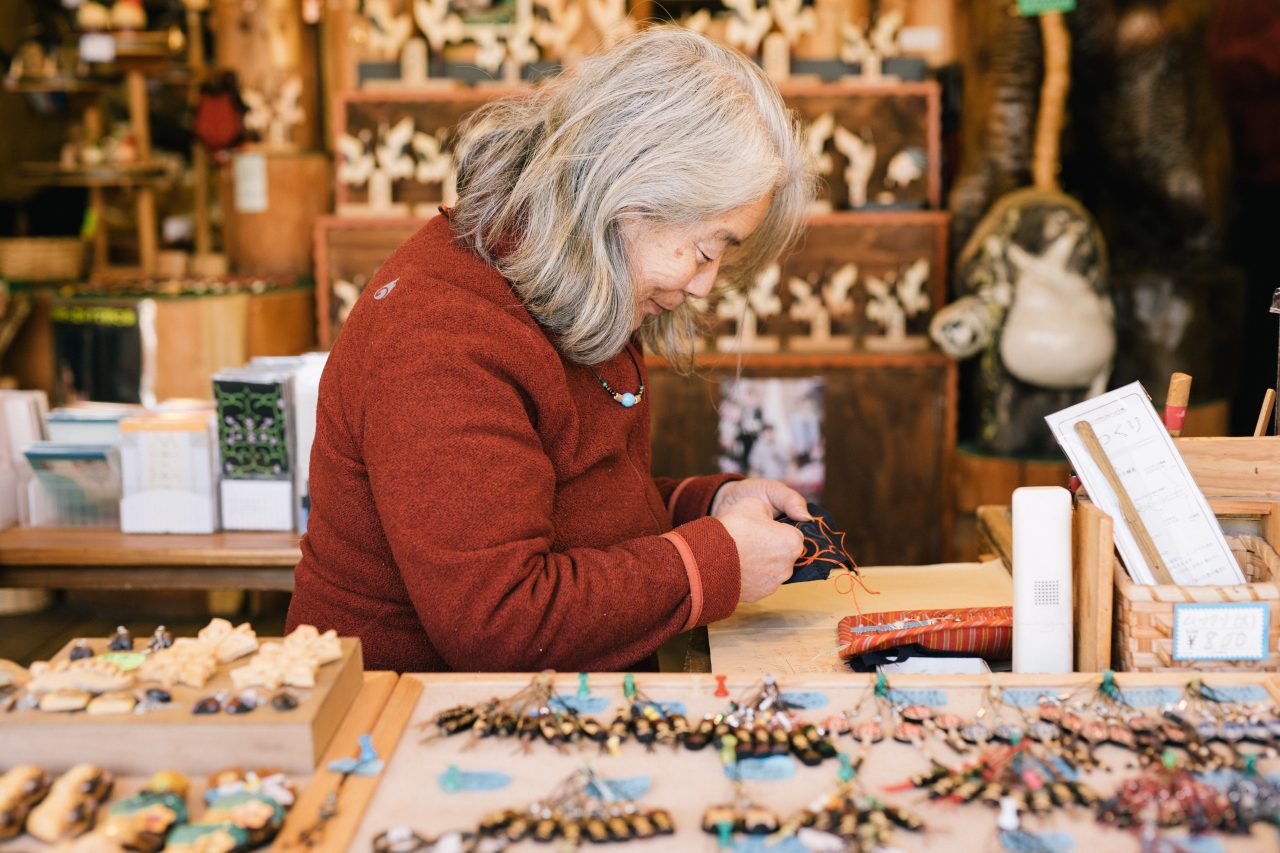 Nurturing compassionate hearts through embroidery
Kayoko hopes that by letting people experience Ainu embroidery, she can nurture their empathy and compassion. She believes that even plants have a will to live, and that it is our duty to make use of them properly. She also wants people to realize that they are just a small part of a larger process, and no matter how well one can make embroidery, it would not be possible without the people who made the thread, the cloth, and the needles. She hopes that this idea will help people cherish every encounter, be it an object or a human being.
There is a kind of embroidered Ainu clothing known as ci=kar-kar-pe. This word can be translated as "a thoughtfully-made garment". For Kayoko, embroidery is not about how well you can make it, but about putting your feelings into every stroke of the needle, which is the charm of ci=kar-kar-pe.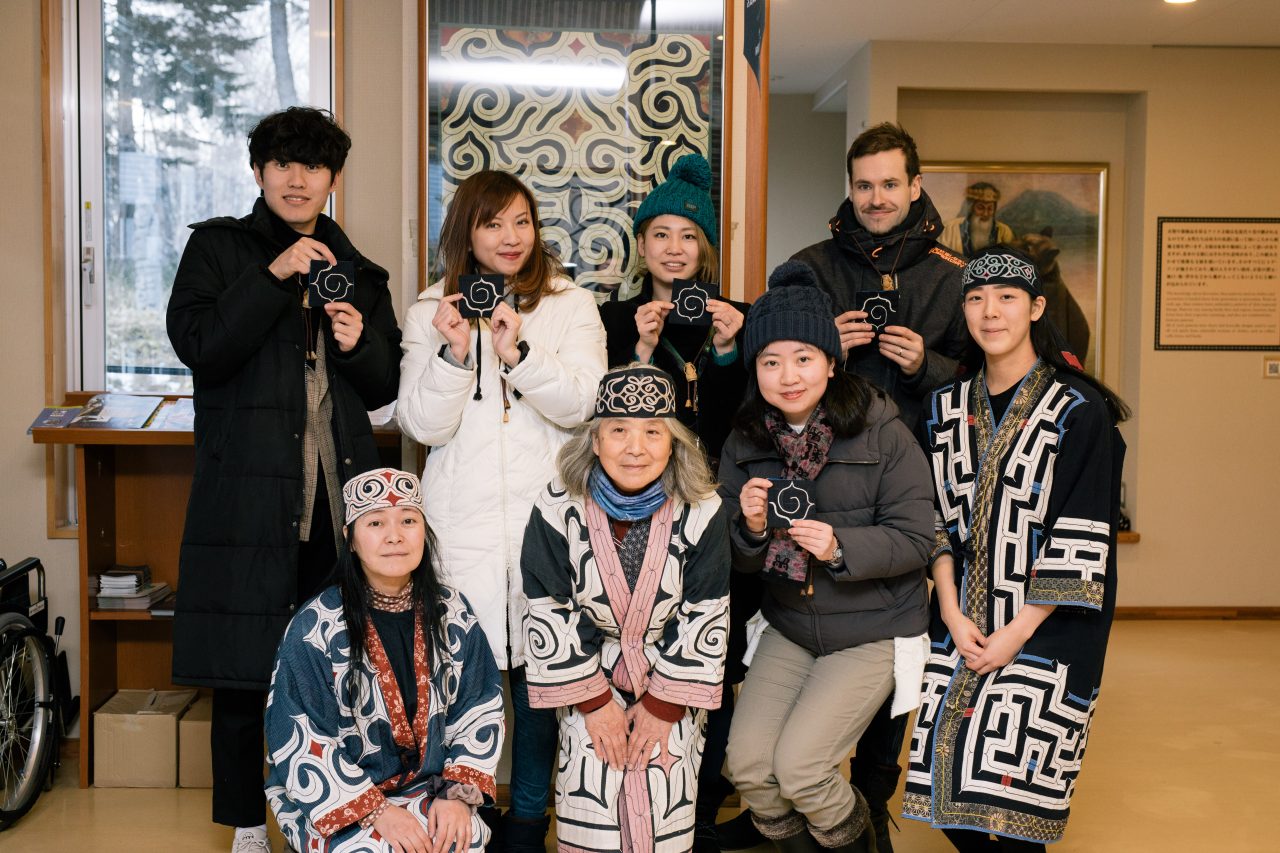 Interview Video
Huci is an Ainu term of respect for one's grandmother or a female elder.

The Marimo Festival is an event held every year on October 8 to 10 in Akanko Onsen, with the aim of promoting the conservation of the marimo, a Special Natural Monument of Japan. It features several Ainu men riding a wooden boat on the lake and performing a ritual welcoming, guarding, and sending-off ceremony for the marimo.