Create your very own wood carving with an Ainu pattern
Located in the Akanko Onsen area, the Lake Akan Ainu Kotan is a village of Ainu arts and crafts. It features several shops and food establishments standing side by side. Visit one of the handicraft shops and you will find a wide variety of wood crafts, including accessories, cutlery, and ornaments. What makes these wooden accessories and cutlery unique are the patterns carved on them. These are traditional Ainu patterns that have been passed down through generations.
In "Craft Time (Wood Carving)", you will make a wooden charm in the shape of a "tonkori", a traditional Ainu musical instrument. You will get to carve out an Ainu pattern into the wood.
Learn about Ainu spirituality through wood carving
The tour program begins with a lecture on how to use the chisel and the technique for carving. You will also get to learn about Ainu spirituality. To the Ainu, they do not simply "carve the wood", but rather "receive the privilege of carving the wood". This is to show reverence to the spirit of the trees, known in the Ainu language as "sir-kor-kamuy" meaning "the god who holds the earth". They believe that the trees protect the ground, enabling smaller plants and animals to live. You will see how such words in the Ainu language reflect their spiritual culture.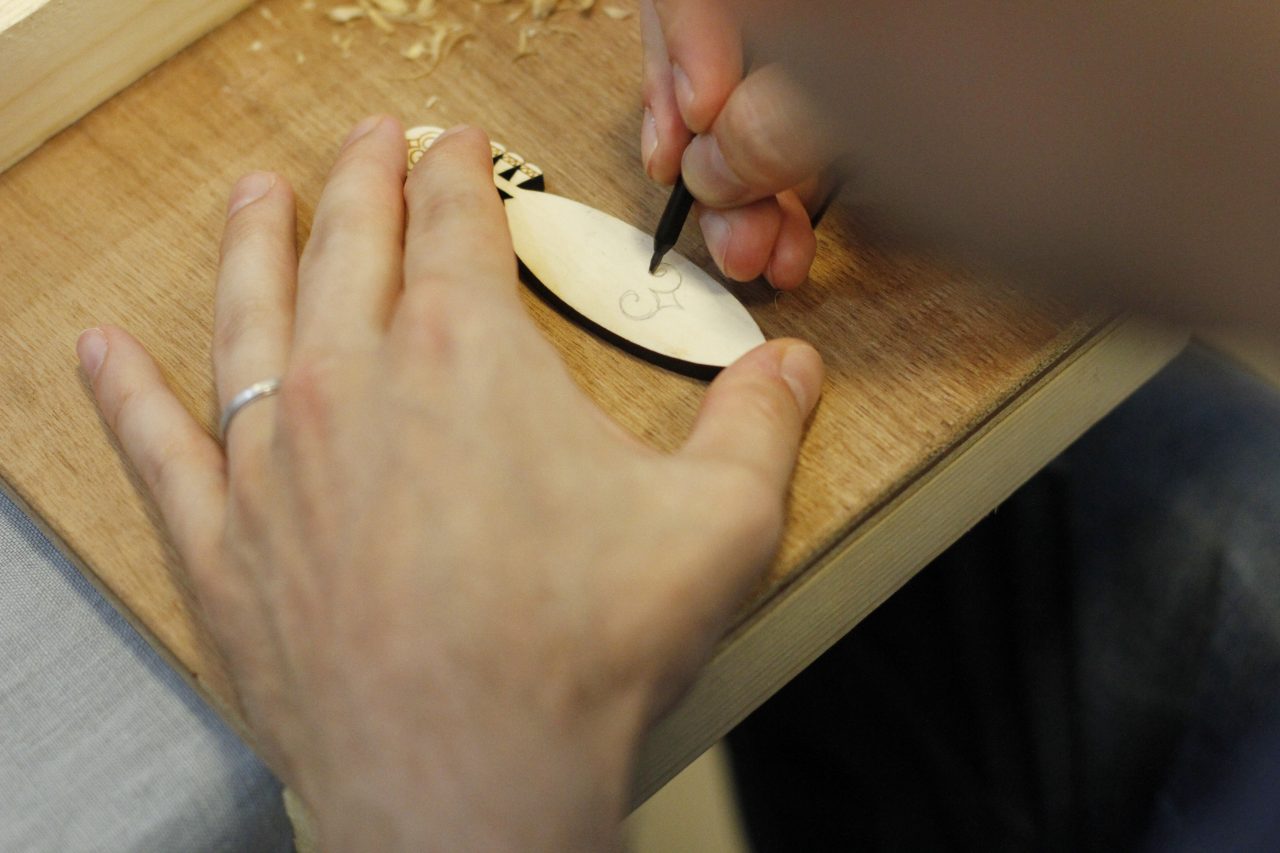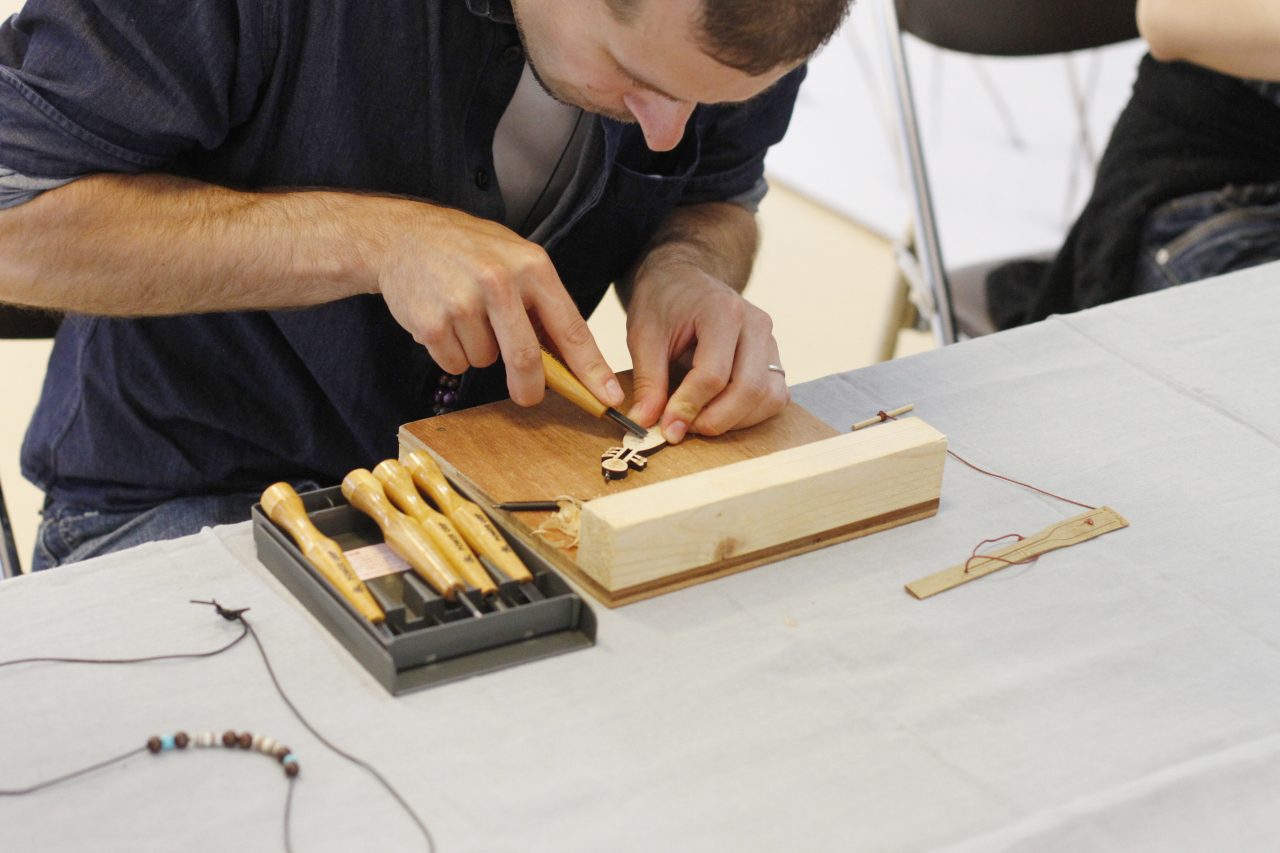 The tonkori, a traditional musical instrument
In this tour program, you will create a lucky charm in the shape of a tonkori, a traditional string instrument of the Ainu. Originally an instrument of the Sakhalin Ainu, it is also commonly used by the Lake Akan Ainu in performances onboard sightseeing boats and in the Iomante Fire Festival performance in the Lake Akan Ainu Theater Ikor. You should go and watch these performances if you want to hear the real sound of a tonkori.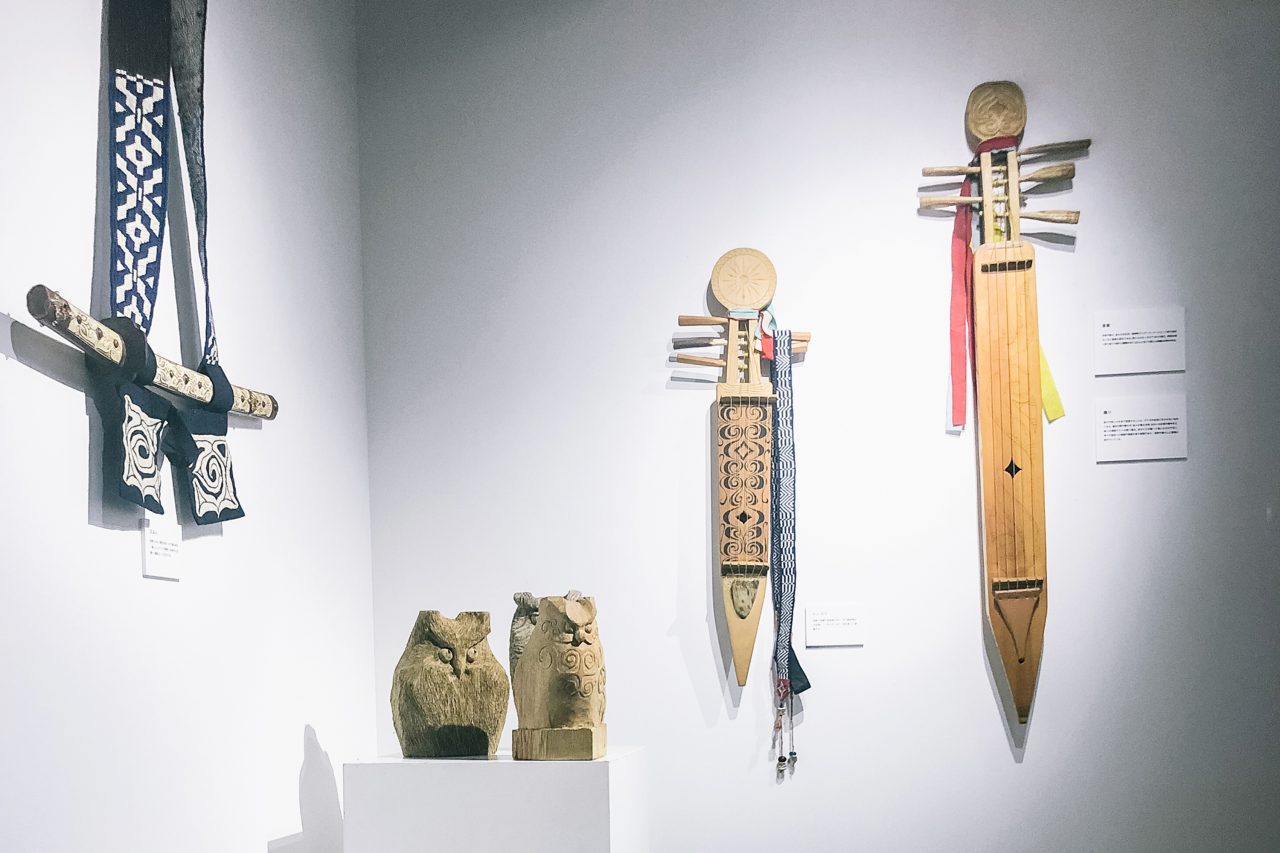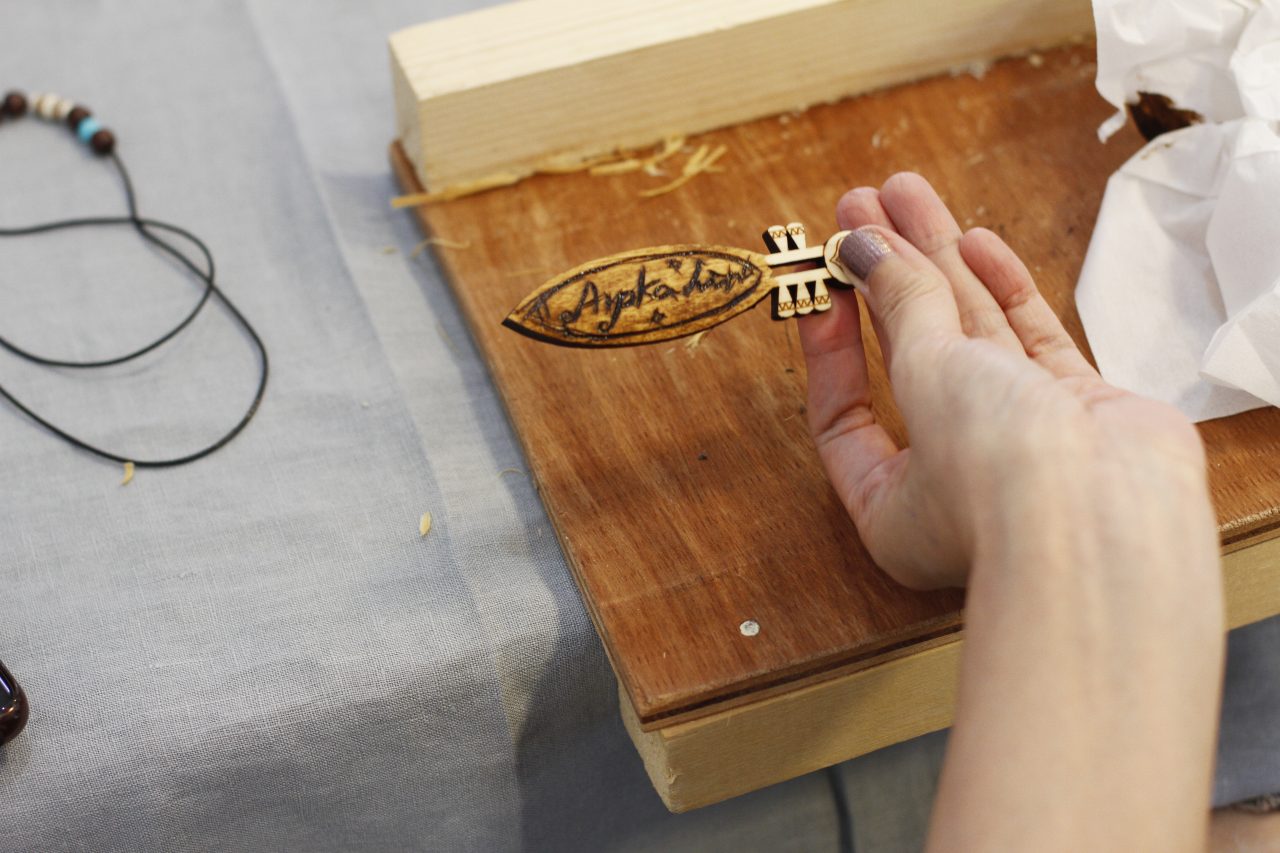 Wood carving in Ainu society
In Ainu society, wood carving was the domain of men. They carved intricate patterns onto various items such as bowls and knives called "makiri". One of the most important wood items of the Ainu is the "ikupasuy", a ceremonial stick carved with beautifully elaborate designs. It is used by Ainu men when they make prayers and offerings to spirits in rituals called "kamuy-nomi".
After carving the wooden charm, you can choose to attach beads and a leather cord to make a pendant, or a ring and chain to make a keychain. Take it home as a memento of your time with the Ainu in Lake Akan.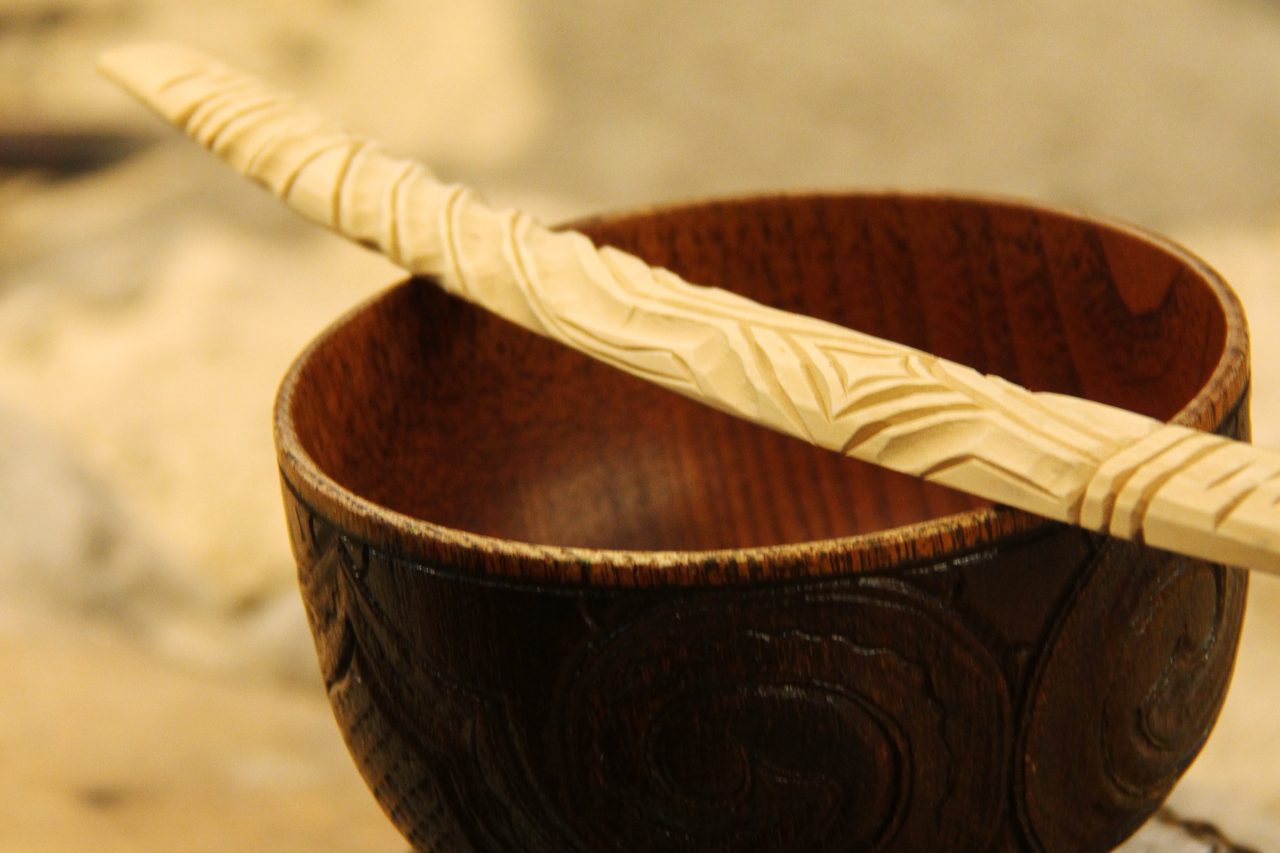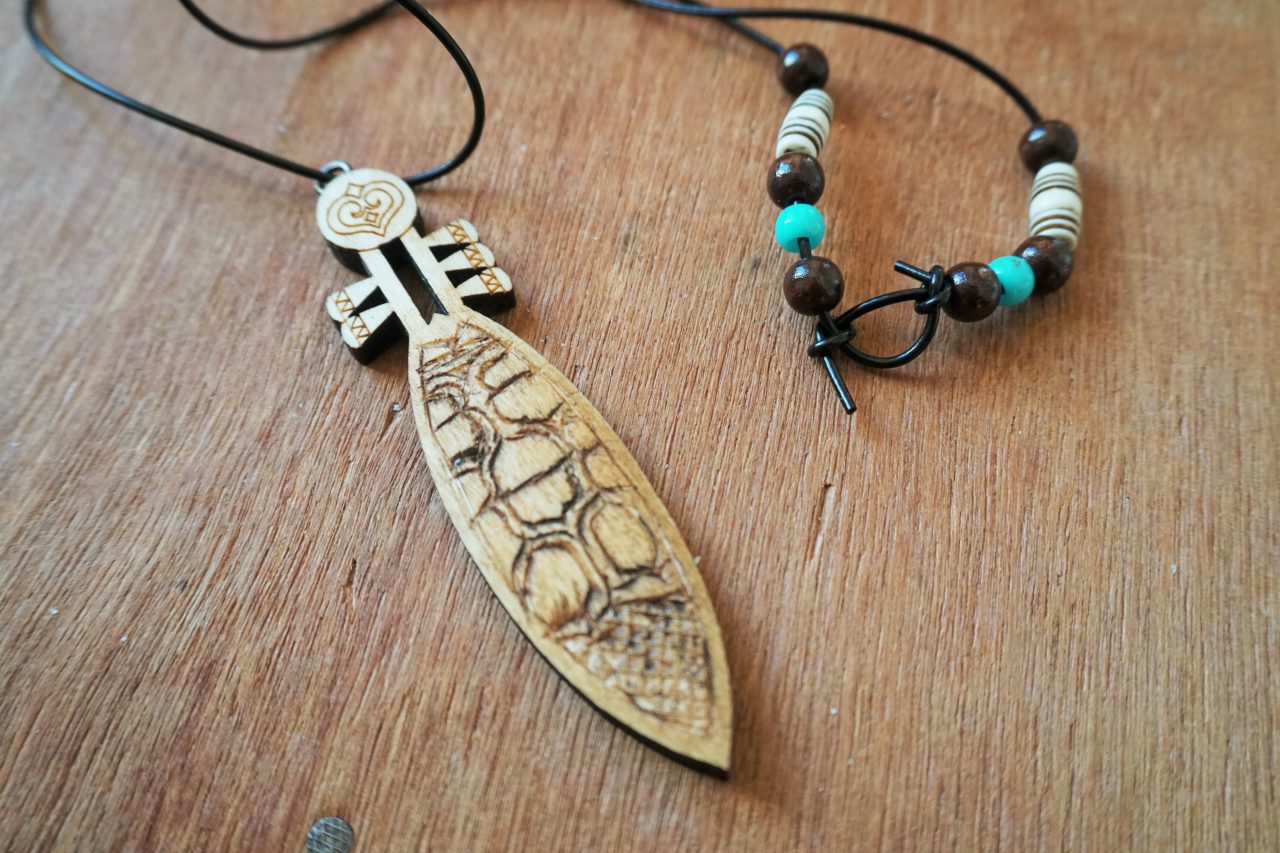 All photos are for illustration purposes only.
Information
Tour name
tour 3B: Craft Time (Wood Carving): Experience Ainu Craftsmanship with Wood
Itinerary
① Meetup at Lake Akan Ainu Theater Ikor
② Wood carving experience
③ Finish at Lake Akan Ainu Theater Ikor
Available period
All year round
Start time
① 11:00~
② 13:30~
Duration
About 1 hour
Meetup location
Lake Akan Ainu Theater Ikor
※See map below for detailed location.
Fee
(Adult/Child) ¥5,000 per person (tax incl.)
※Credit cards not accepted.
Age limit
10 years old and up (children below 10 years may not join).
If you are aged 10 to 15 years and joining by yourself, please inquire in advance.
Participants
Minimum 2, maximum 10
Included in fee
Guide fee, activity fee, wood carving kit, tax
Not included in fee
Transportation costs to the venue
Reservation deadline
At least 10 days in advance (May be available to book even after the 10-day advance deadline. Please inquire for details.)
Required items to bring
None
Convenient items to bring
None
Payment method
Please pay by cash at the Lake Akan Ainu Theater Ikor counter before the start of the tour.
Notes
■Please be at the meetup location at least 10 minutes before the start time.
■The tour may be changed or cancelled due to circumstances beyond our control.
■The tour is conducted only in Japanese or English. If you wish to avail of guide services in English, please select it in the Preferred Language in the reservation form. Note that we may not be able to accommodate your request depending on the day.
■Since the tour involves the use of sharp objects, children below the age limit may not join.
Cancellation policy
The following cancellation fees will apply upon cancellation of a reservation:
・1 to 3 days before the tour date: 20% of tour fee
・On the day of the tour prior to the start time: 50% of the tour fee
・After the tour starts or no show: 100% of the tour fee (no refund)
Access map