Visit the forest of Lake Akan which has sustained the lives of the Ainu.
Learn their beliefs about the forest and listen to the sound of the mukkuri.
For the Ainu in Lake Akan, the forest was a place essential to their lives. It was a source of their food, their clothing, and their tools. They lived in harmony with the forest, always showing their appreciation to the many kamuy (gods) inhabiting it.
In "Forest Time", you will take a walk inside the "iwor" (living territory) forest on the shore of Lake Akan together with an Ainu guide. You will also get to try playing a traditional Ainu musical instrument called "mukkuri". You can learn about various aspects of Ainu culture, including how they respect and seek harmony with nature.
See how the Ainu interact with the forest
This tour takes place in the iwor forest located not far from the Akanko Onsen area. Before entering the forest, the Ainu will perform a ritual called "kamuy-nomi", in which they pray for safe travels inside the forest. You can participate in this kamuy-nomi together with the Ainu guide. While walking inside the forest, the guide will tell you all about the folklore and beliefs of the Lake Akan Ainu surrounding this area.
You will walk with snowshoes in case of accumulated snow.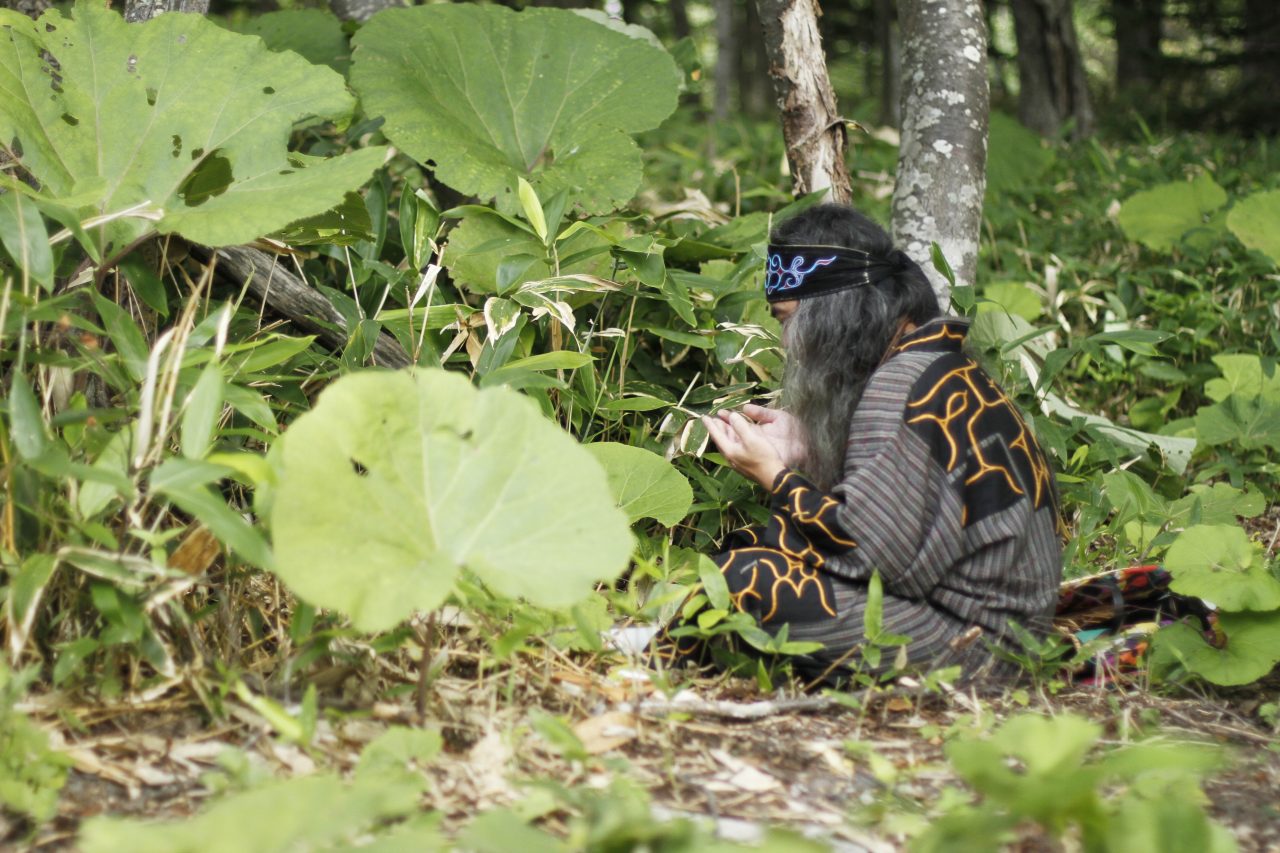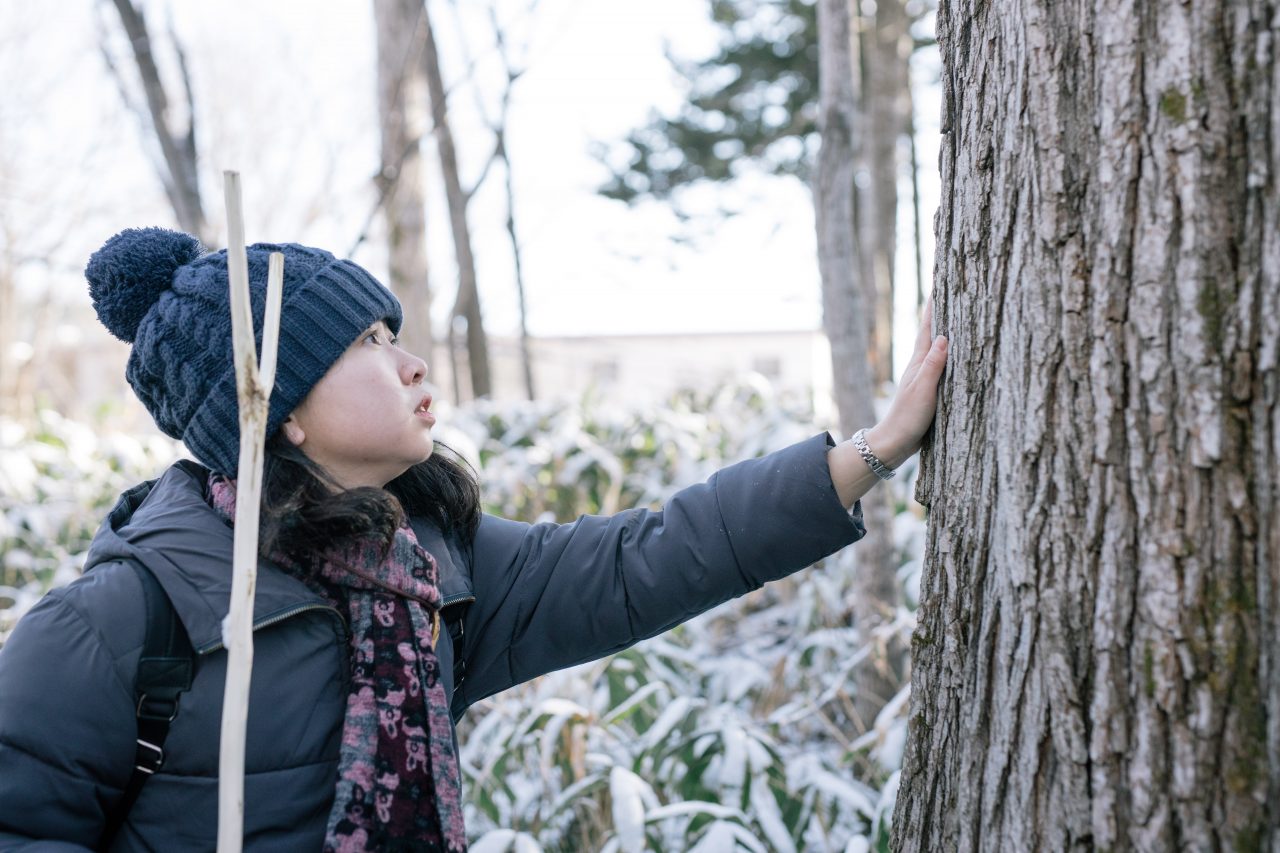 See the majestic stature of Mt. Oakan
The walking course in this tour is relatively short in distance, with little uphill or downhill slopes. As you walk along, you will eventually reach the shore of Lake Akan. Through the trees, you can catch a glimpse of Mt. Oakan, captivating you with its majestic beauty. As you stop to take a deep breath, you can listen to the legends of the Lake Akan Ainu surrounding this imposing mountain.
Depending on the weather for the day, you may be unable to see Mt. Oakan.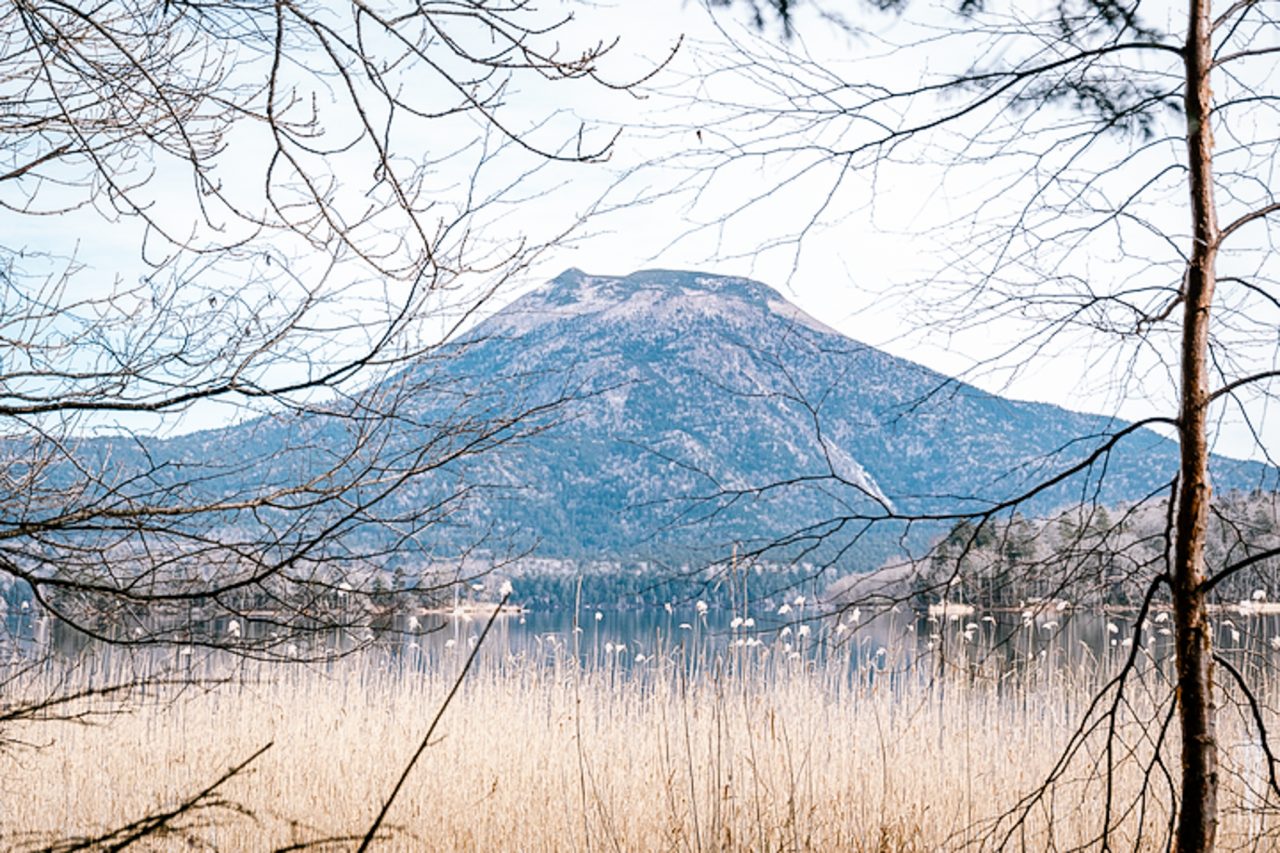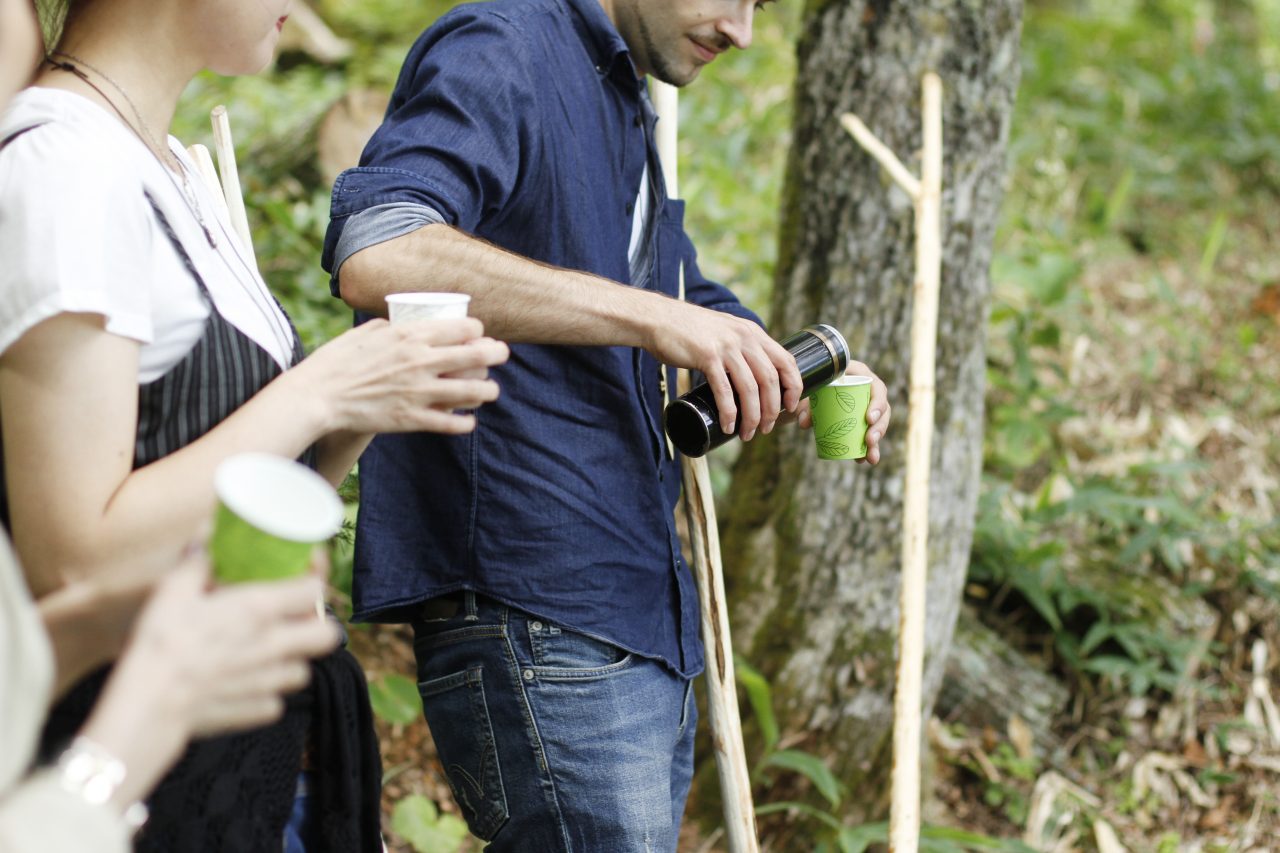 Listen to the sound of the mukkuri inside the forest
In a small clearing at the edge of the forest, the Ainu guide will teach how to play the mukkuri. The mukkuri is a type of jaw harp made from bamboo that produces sound by pulling a string and vibrating the reed while holding it against your mouth. The Ainu used the mukkuri to express the sounds of nature, such as the wind or the cries of animals. They also used it as a musical accompaniment for their traditional songs and dances. Hearing it resonate in the middle of the quiet forest gives you the feeling that humans are indeed a part of nature.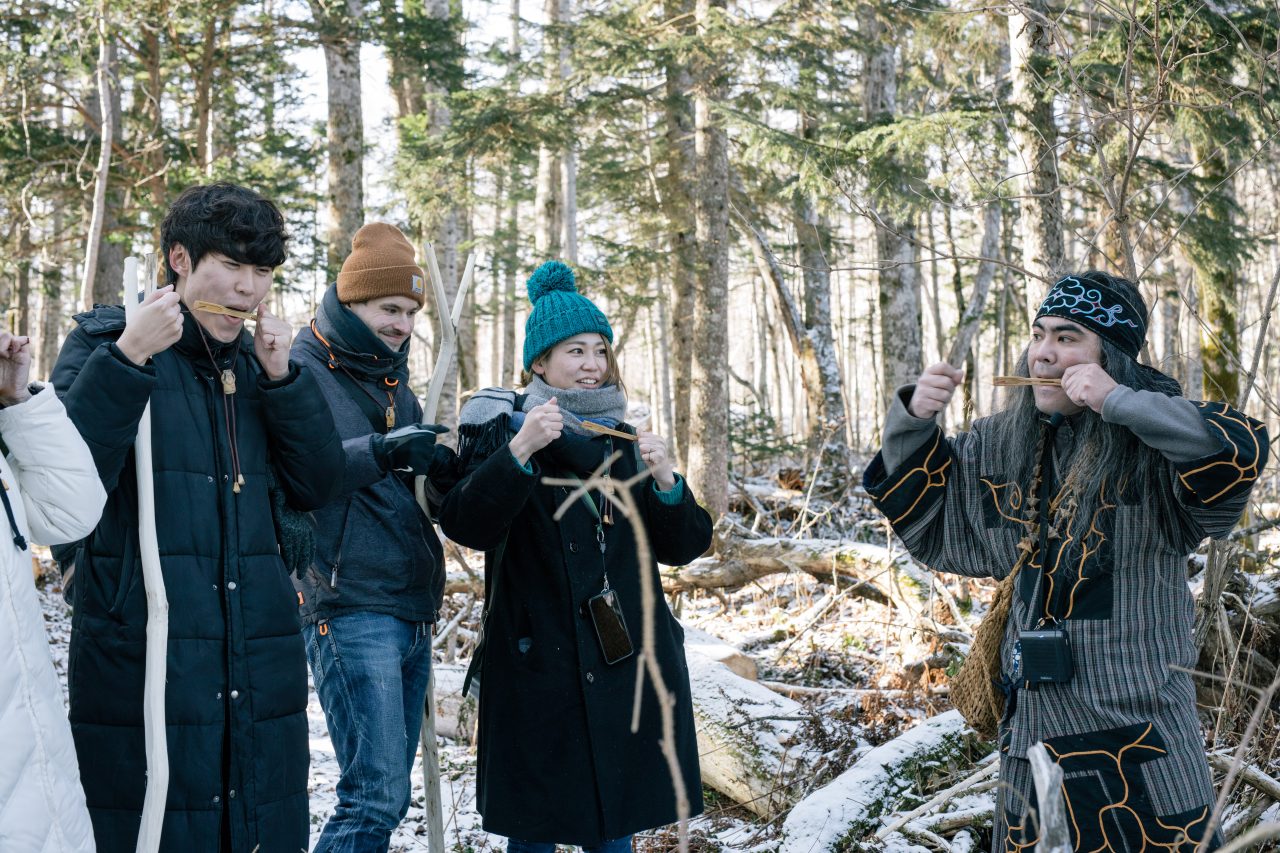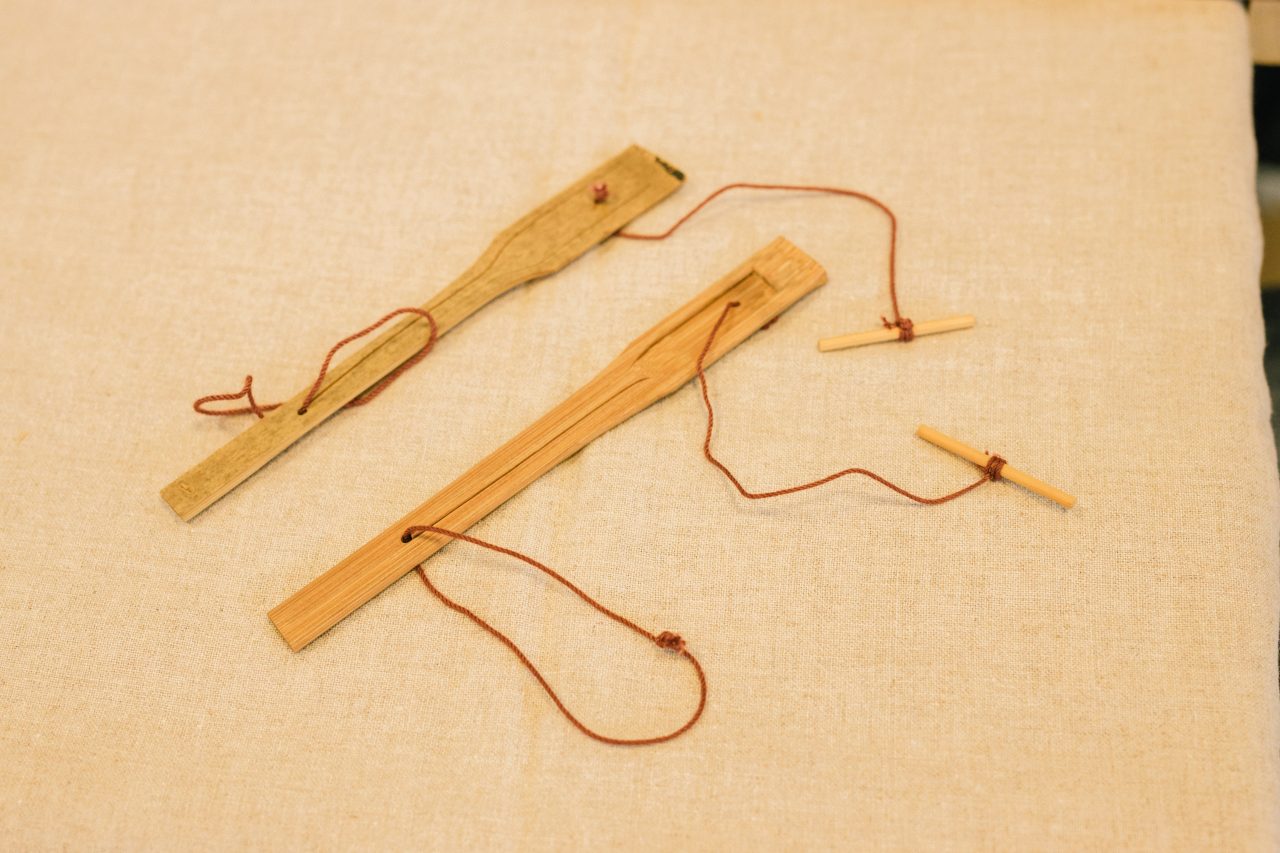 All photos are for illustration purposes only.
Information
Tour name
tour 1: Forest Time – Feel the Spirit of the Ainu Living with the Forest
Itinerary
① Meetup at Lake Akan Ainu Theater Ikor
② Kamuy-nomi (prayer) experience
③ Guided walk in the iwor forest (short course)
※Snowshoe trek in case of accumulated snow
④ Mukkuri performance in the forest
⑤ Picture-taking with Ainu traditional clothes
⑥ Finish at Lake Akan Ainu Theater Ikor
Available period
June to March (not available from April to May)
Start time
13:30~
Duration
About 1 hour 30 minutes
Meetup location
Lake Akan Ainu Theater Ikor
※See map below for detailed location.
Fee
(Adult/Child) ¥7,000 per person (tax incl.)
※Credit cards not accepted.
Age limit
7 years old and up.
Children below 7 years may not join.
Children aged 7 to 10 years must be accompanied by an adult (16 years old and up).
If you are aged 11 to 15 years and joining by yourself, please inquire in advance.
Participants
Minimum 2, maximum 10
Included in fee
Guide fee, activity fee, mukkuri, tax, snowshoe rental (in case of snow)
Not included in fee
Transportation costs to the venue
Reservation deadline
At least 10 days in advance (May be available to book even after the 10-day advance deadline. Please inquire for details.)
Required items to bring
Comfortable clothes and shoes (or cold weather gear in winter)
※Some places may get muddy depending on the season or weather.
Convenient items to bring
Hat, backpack or other hands-free bag, rain gear
Payment method
Please pay by cash at the Lake Akan Ainu Theater Ikor counter before the start of the tour.
Notes
■Please be at the meetup location at least 10 minutes before the start time.
■The tour will be held in case of light rain. Free rental of raincoats is available, but please bring your own rain gear just in case.
■The tour may be changed or cancelled due to inclement weather or other circumstances beyond our control.
■The tour is conducted only in Japanese or English. If you wish to avail of guide services in English, please select it in the Preferred Language in the reservation form. Note that we may not be able to accommodate your request depending on the day.
■Since the tour involves walking on unpaved forest trails, children below the age limit may not join.
■Free rental of shoulder pouch (to carry the items to be used in the tour) is available.
Cancellation policy
The following cancellation fees will apply upon cancellation of a reservation:
・1 to 3 days before the tour date: 20% of tour fee
・On the day of the tour prior to the start time: 50% of the tour fee
・After the tour starts or no show: 100% of the tour fee (no refund)
Access map