Lake Akan Ainu Theater Ikor Dancer
Kumiko Taira
Born in Oketo Town in Hokkaido. She moved to the Lake Akan Ainu Kotan after marrying her Ainu husband. She has always been interested in handicrafts, and got into Ainu embroidery through her mother-in-law. Since 2010, she has served as an apprentice to the embroidery artisan Kayoko Nishida, assisting her in embroidery workshops and events.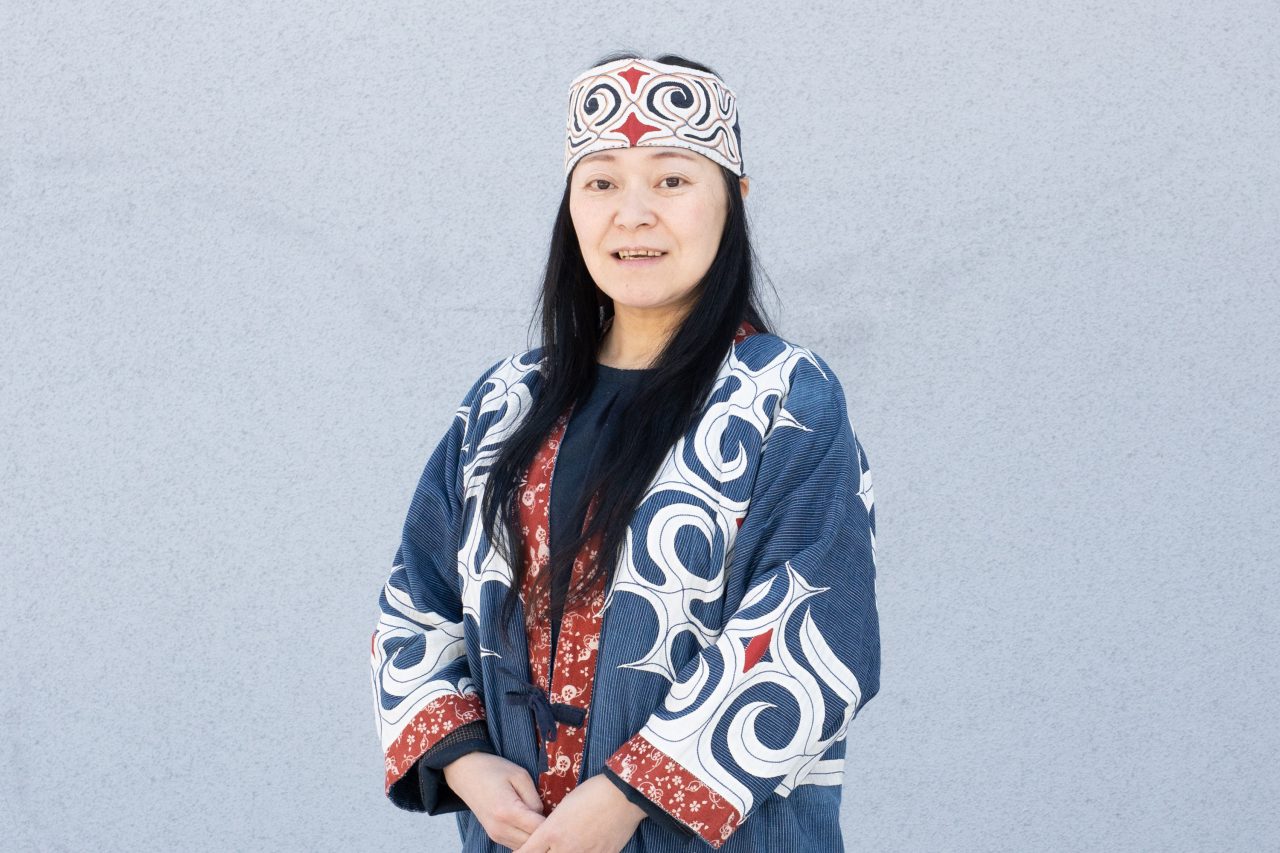 The interlocking links of the "oho" chain stitch
One of the techniques used in Ainu embroidery is called "oho", the Ainu word for the chain stitch that forms a series of linked loops. When Kumiko first saw and tried this stitch, she felt that it had a deeper meaning, a representation of the endless connections among people and traditions.
Kumiko's embroidery mentor is the gentle and soft-spoken artisan Kayoko Nishida. Kayoko lauds her work as having soft and elegant lines. Having first learned Ainu embroidery from her mother-in-law, Kumiko decided to pursue it more by joining Kayoko's embroidery lessons in Lake Akan. She longed to be able to emulate the beautiful patterns crafted by her teacher.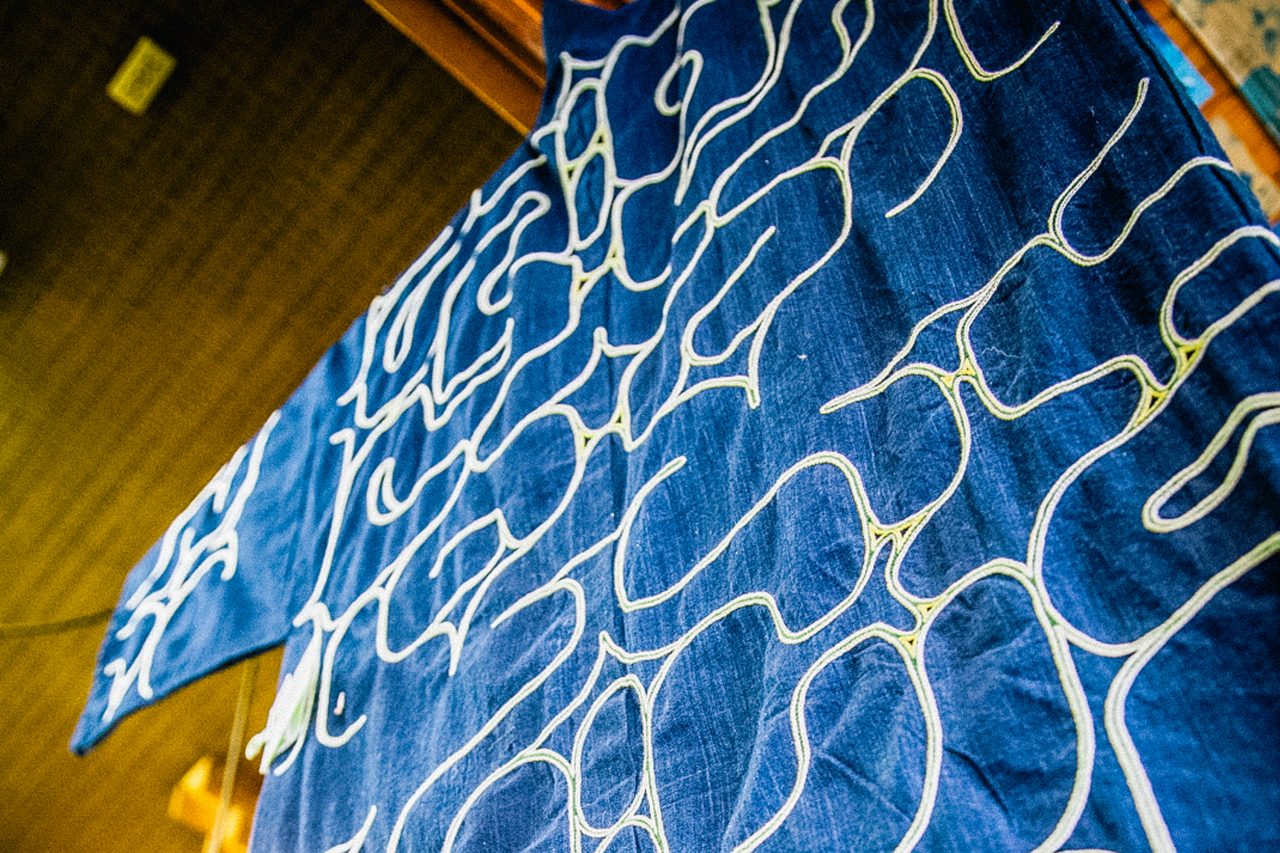 Enjoying embroidery while channeling her feelings
When embroidering Ainu patterns on clothing, the garment is usually folded to match the width of the body before deciding on their placement. While it may not be exactly symmetrical, an elegant sense of balance is attained.
Kumiko makes sure that she is in the right mood when she does embroidery. Ainu patterns are said to ward off of evil spirits, and are applied to clothing with a prayer for the health and safety of the wearer. Doing embroidery with any ill feeling in your heart is considered disrespectful to both the wearer and the spirit of the needle. But a garment embroidered with compassion and joy can impart a calming warmth.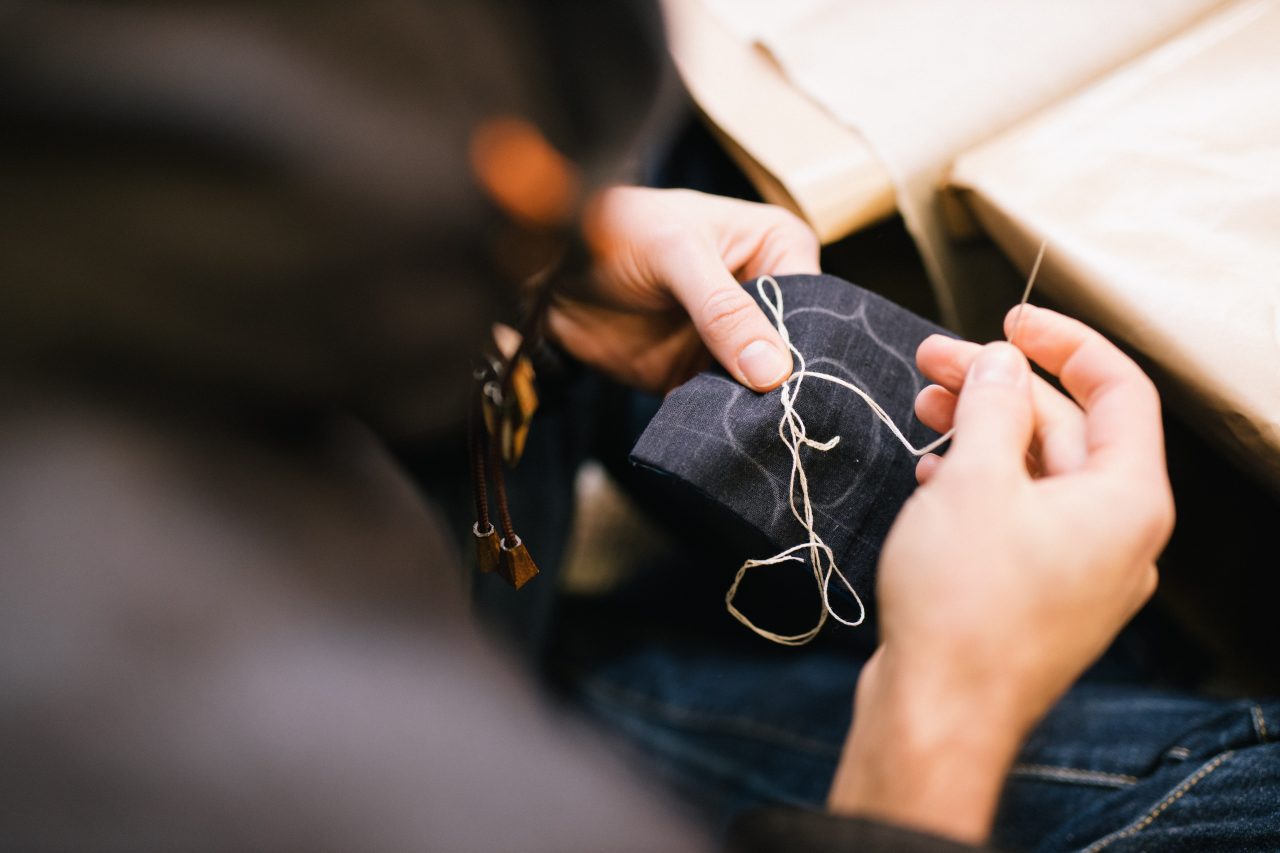 The importance and propriety of expressing appreciation
Kumiko has learned from Kayoko not just embroidery techniques. She has also learned to show appreciation for all things in the world, a value that has been passed down by the Ainu through generations. There is also the importance of having the proper mindset for embroidery, showing consideration for others, and being mindful of every word and action.
The Ainu considered these values as essential to living a proper life. These values impart the wishes of their ancestors for future generations. Together with Ainu culture and traditional techniques, Kumiko wants to instill these values in herself.
Kumiko admits that before coming to the Lake Akan Ainu Kotan, she did not really express words of gratitude much. Living in this place has taught her that expressing appreciation for everything around her is only a matter of course.
The world today is changing at a rapid pace, and society has become more convenient than ever before. Which is why it is all the more important to stop and think about what is really essential in living our lives as human beings.