Akan Ainu Association President, Akan Ainu Consuln Chairperson, Ainu Association of Hokkaido Director
Hiroshi Hirono
Born in 1964 in the Harutori district of Kushiro City to his father Muneshi and his mother Toyo. He is the grandson of Tasuke Yamamoto, a famous scholar who recorded Ainu folklore through interviews of Ainu elders. Hiroshi established the Akan Ainu Consuln in 2019 with the aim of protecting the intellectual property of the Ainu. He also works toward the promotion of Ainu culture and tourism, and the economic independence of the Ainu people.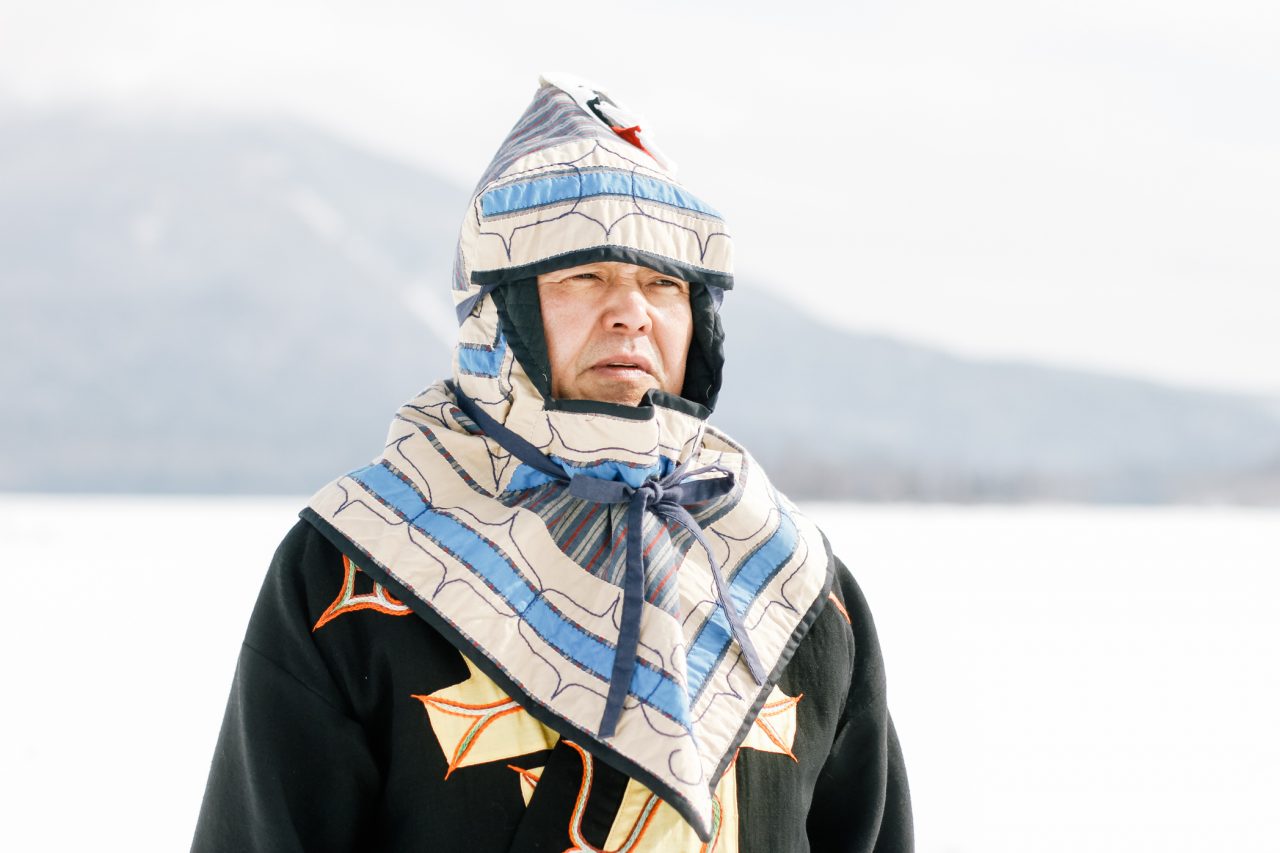 From Lake Akan into uncharted territory
Hiroshi had been exposed to Ainu culture since his birth. He recalls his grandfather and mother teaching Ainu songs and dances in a settlement house in Kushiro City. At around nine years of age, his whole family, headed by his grandfather Ekasi (※1) Tasuke Yamamoto, moved to Lake Akan where his maternal relatives had been living.
Hiroshi still clearly recalls the hustle and bustle of Lake Akan during his youth. Back then, the place was even more packed with tourists than it is today, and every shop in the Lake Akan Ainu Kotan was constantly drawing visitors. After finishing junior high school, he moved to Bibai City to study architecture in a technical high school. He later got a job in a company in Shintoku Town, but at the age of 22, he made the momentous decision to move to Tokyo.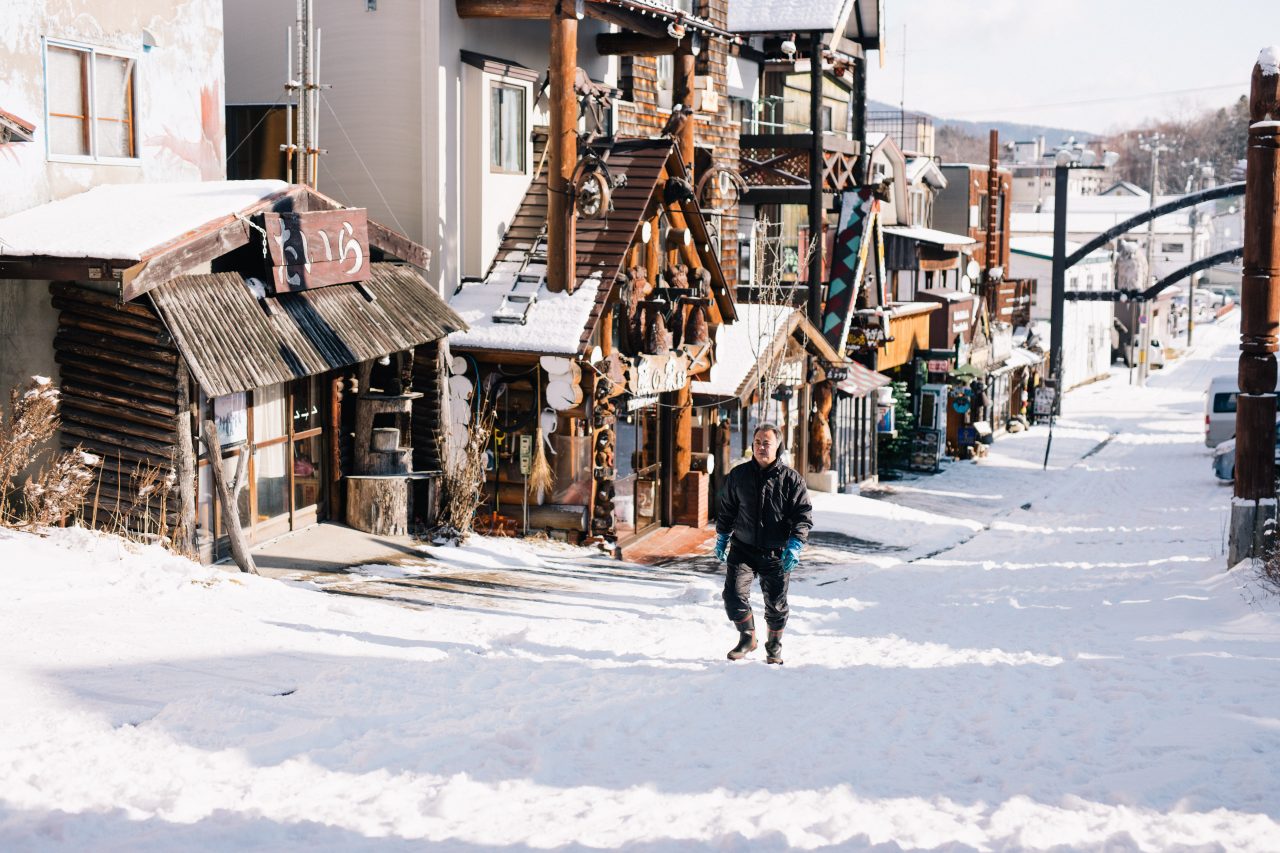 A reunion with Ainu culture
Not long after moving to the capital, Hiroshi found out about the existence of Ainu culture sharing sessions held at an Ainu restaurant in Waseda called Rera Cise (※2). Most of the participants of these sessions were Ainu people who had moved to Tokyo.
Meeting other Ainu in Tokyo spurred Hiroshi to learn about Ainu culture in earnest. Every time he had the chance, he headed back to Hokkaido and visited Ainu settlements in Lake Akan, Kushiro, and Shiranuka where he learned traditional dances and heard stories from elders. He admits to feeling shame for not having known his own traditions, and he felt moved by the efforts of the other Ainu around him. A new wind was starting to blow in his heart.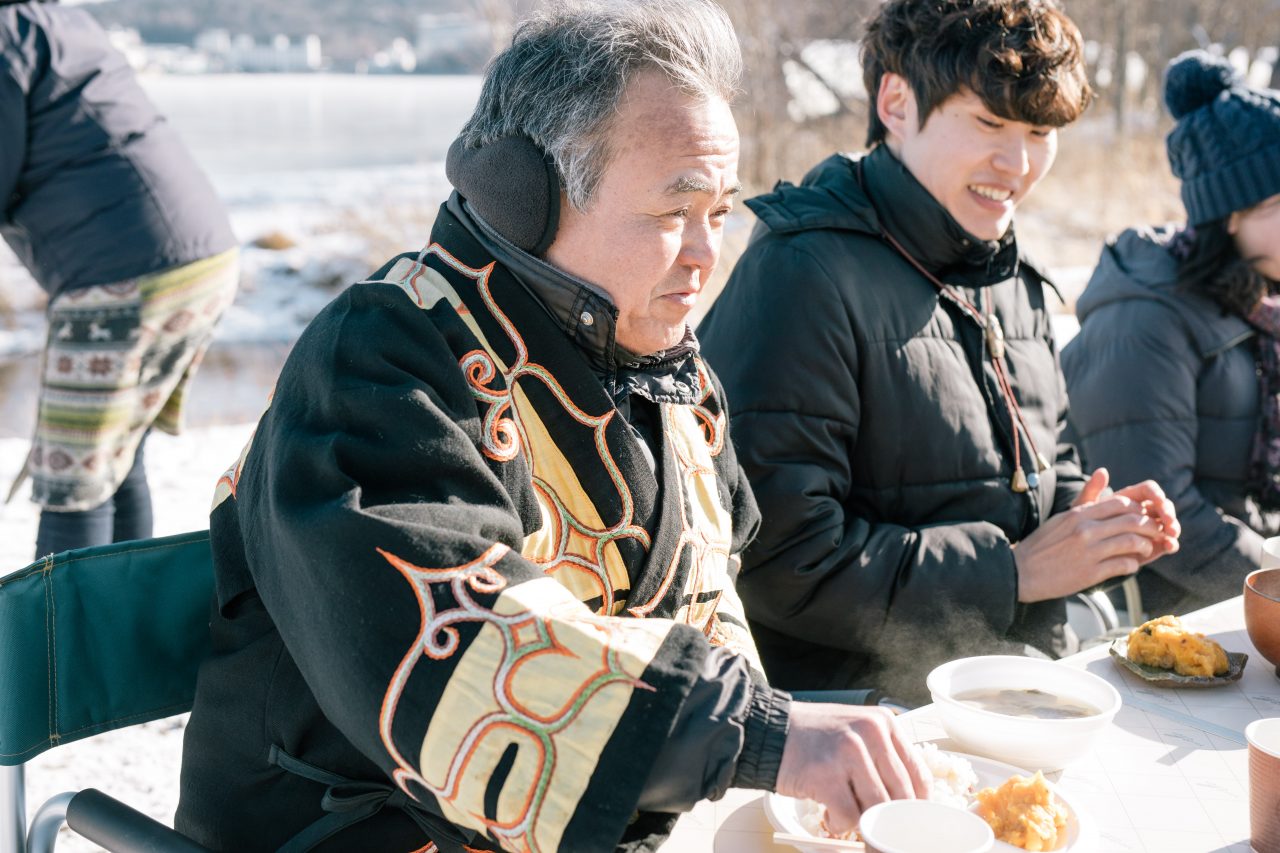 Overcoming hardship with help from his brethren
During one of his countless visits to Rera Cise, Hiroshi was unexpectedly asked to help out with the relocation of the restaurant. He readily accepted and set himself to the task, making use of his architectural knowledge to scout a new location, raise funds, and even help out with the construction.
As opportunity would have it, Hiroshi soon found himself entrusted with the actual management of Rera Cise. At first, its uniqueness and new location attracted many visitors, but this turnout did not last long. Nevertheless, Hiroshi was able to rekindle its popularity by introducing Ainu cultural experiences for customers, such as lectures, embroidery, wood carving, music, and kamuy-nomi (※3). These activities were led by fellow Ainu living in Tokyo. Many Ainu from Lake Akan also came to support the efforts of their brethren.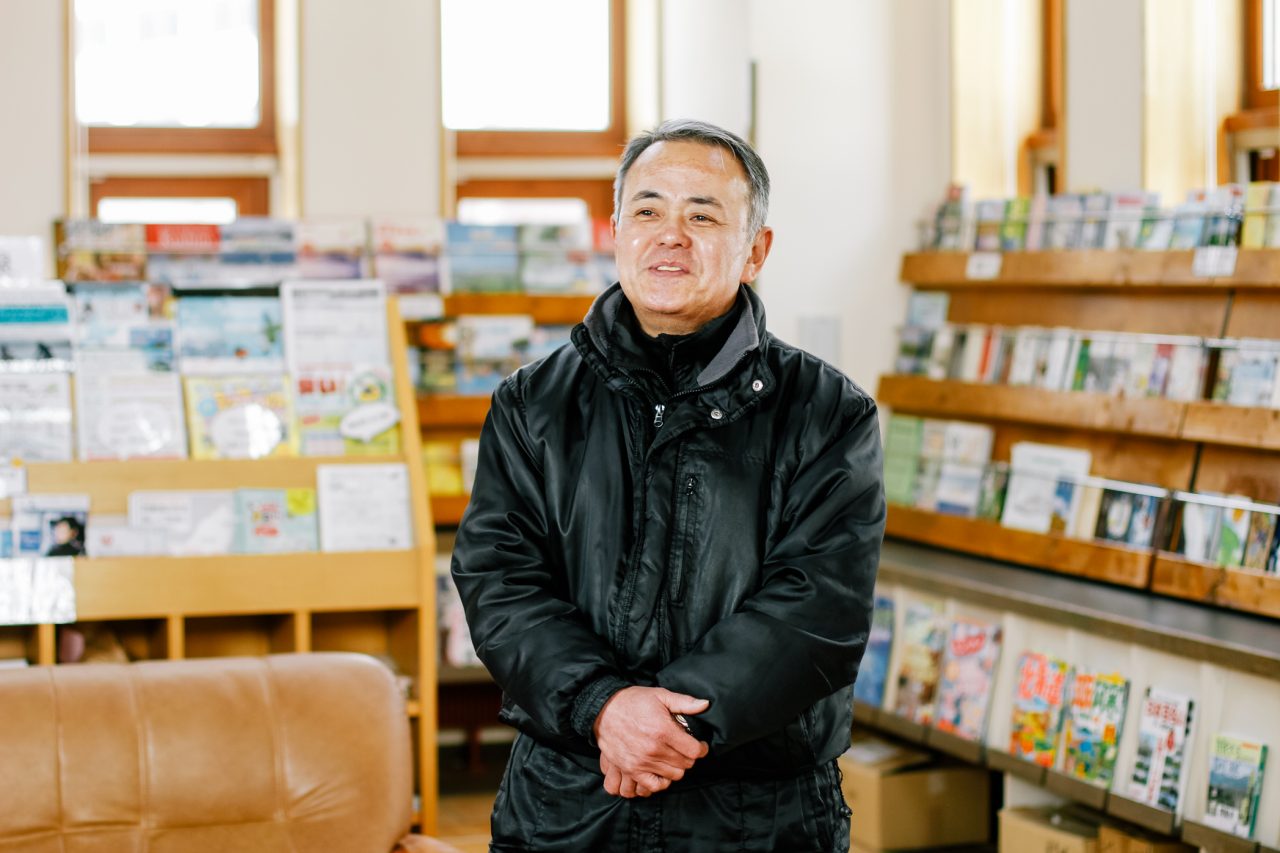 Expanding his activities while learning more about the Ainu culture
With the restaurant business doing well, Hiroshi then became a central figure in the organization of the Caranke Festival, an event that promotes the culture and traditions of the Ainu and Okinawan peoples. He was also awarded a grant by the Foundation for Ainu Culture to conduct research on the Ainu culture of eastern Hokkaido, specifically the culture recorded by Tasuke Yamamoto.
Hiroshi often travelled to Lake Akan to do his research, conducting interviews of his uncle Fumitoshi Yamamoto, the second son of Tasuke Yamamoto. While walking together in the fields, he would record his uncle's account of Ainu legends about nature and their way of life. He was particularly impressed by Fumitoshi's assertion that the Hokkaido wolf, believed to be now extinct, still exists deep in the forests.
Hiroshi would later incorporate this claim in his picture book "Sep to Okami no Yakusoku" (Sep and the Wolf's Promise), which tells the story of a boy named Sep who believed that the Hokkaido wolf did not completely die out during the pioneering age of Hokkaido. The days he spent with Fumitoshi would also prove significant in his future role of passing down the Ainu culture of Lake Akan to the next generation.
With the Ainu community in Tokyo finally finding their bearings, Hiroshi turned the restaurant over to a friend, and he and his family returned to Lake Akan where his parents still resided.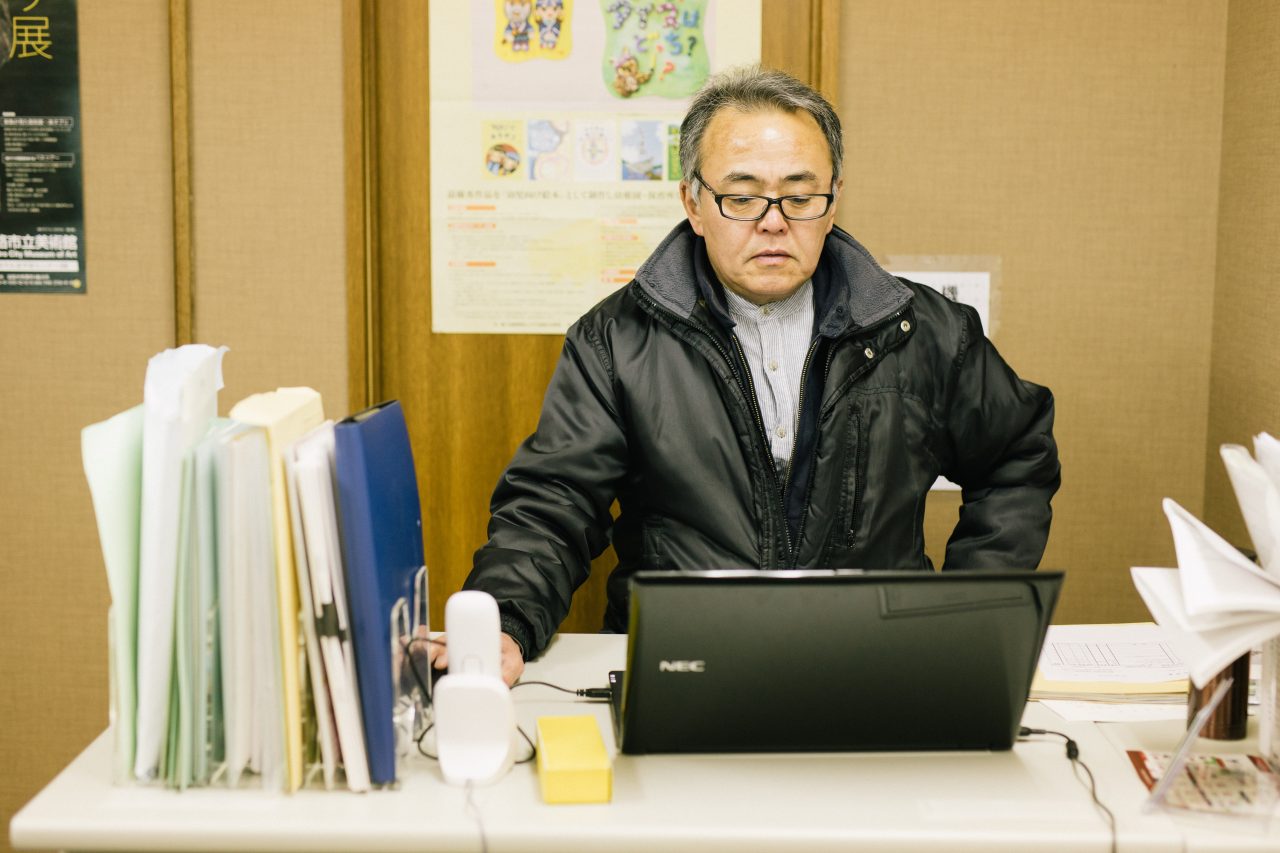 Working for the self-determination of the Ainu
Upon his return, Hiroshi became even more active in his Ainu cultural activities. He even worked beyond national borders, organizing exchange events with indigenous groups in other countries and observing their initiatives regarding the promotion of ethnic minority cultures. He found it particularly notable how in New Zealand, Taiwan, and the USA, ethnic culture plays an important part in tourism and the arts, and revenue gained is used to support the lives of those indigenous groups.
Hiroshi considered how to apply this approach for Ainu culture, and it led him to establish the Akan Ainu Consuln, an organization aimed at disseminating Ainu culture and protecting Ainu intellectual property. He also led efforts by the Lake Akan Ainu Kotan to renovate a traditional house called "Onne Cise" (※4). Currently, he is planning to open an Ainu Art Museum that will exhibit not just traditional Ainu artifacts, but also modern artworks by artists living in Lake Akan.
He also wants to nurture and train new Ainu cultural guides who can lead tours in the "Hikari-no-Mori" (forest of light) and "Kohoku-no-Mori" (forest north of the lake) areas owned by the Maeda Ippoen Foundation (※5). It is his hope that Ainu culture tours led by the Ainu themselves will become the norm in Japan.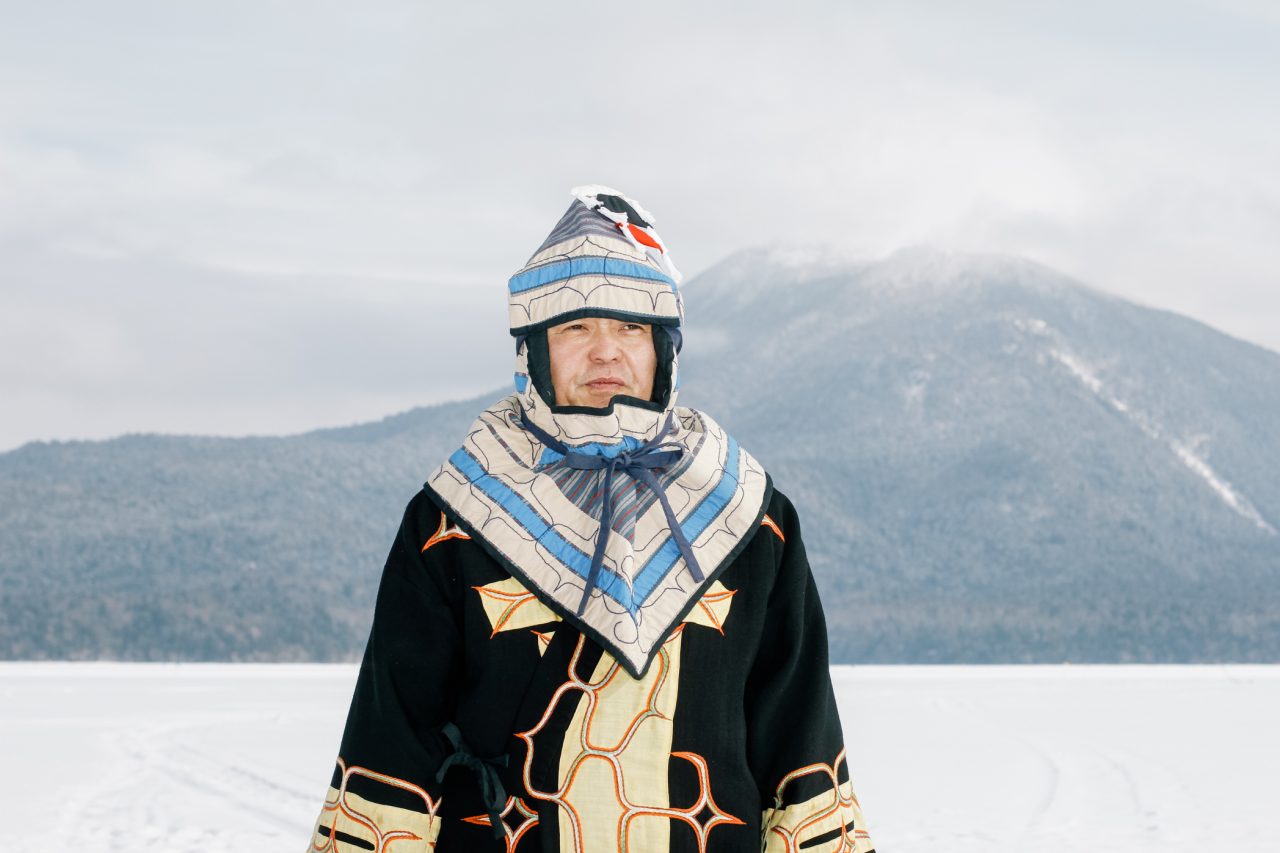 Interview Video
Ekasi: an Ainu term of respect for one's grandfather, male ancestor, or a venerable man.

Rera Cise stands for "house of wind"

Kamuy-nomi: a traditional Ainu ritual performed as prayer to the gods.

Onne Cise stands for "big house".

The Maeda Ippoen Foundation was established in April 1983 by Mitsuko Maeda and others to preserve the rich nature of the Akan Maeda Ippoen, a privately owned area of Lake Akan. Its activities include protecting the roughly 3,600 hectare forest around Lake Akan, conducting research on nature conservation, promoting awareness, and developing human resources.